Are you a scuba diver who is heading on a vacation to the Riviera Maya soon? Unsure of how to allocate your dive days? Why not try a scuba diving package! With 'The Best of the Riviera Maya' you can explore the reefs of Playa del Carmen, the wonders of the cenotes, and the stunning oceans of Cozumel.
---
Experience The Best of Every Underwater World with a Scuba Package!
---
Often when you are only on vacation for a short time, you need to cram in your activities to make your itinerary run smoothly. This is especially true for scuba divers, where allocating dive days needs to be planned carefully to ensure you don't tire yourself out, and you leave enough time before flying back home.
When time is limited, it is especially important that divers spend their time doing the very best immersions into the deep blue that they can. But here in the Riviera Maya we are spoilt for choice with so many diving options, it can be confusing to know what really the best options are to do.
We devised the 'Best of the Riviera Maya' scuba diving package which gives 3 days of diving showing a highlight of each of the 3 top dive options in this area. At DivePoint we also have flexible packages which we can custom-tailor to each diver's wants and needs. This premade package is for those who can't decide what to do and want to see it all!
Let's take a look to find out more:
Playa del Carmen 
In the waters off the coast of Playa del Carmen, there are many dive sites, which are beautiful and easy to enjoy. The waters here are relatively shallow and calm, with most of the site sitting at around the 12 meter depth. This means they are absolutely buzzing with marine life! (There are also bull sharks during the winter months!)
In between the colorful corals and waving seagrass you'll see tons of fish, plus a ton of macro life, for underwater photography whizzes to snap pictures of. 
There isn't a lot of current here and the navigation is really easy, making these dive nice and relaxing. They are great for novice and experienced divers alike – and a perfect way to plunge back into diving if it has been a while since you last vacation splash!
If you're feeling a little more adventurous, there are also some deeper dive sites, and a drift dive, named Tortugas for you to enjoy. You could also check out the shipwreck, Mama Viña,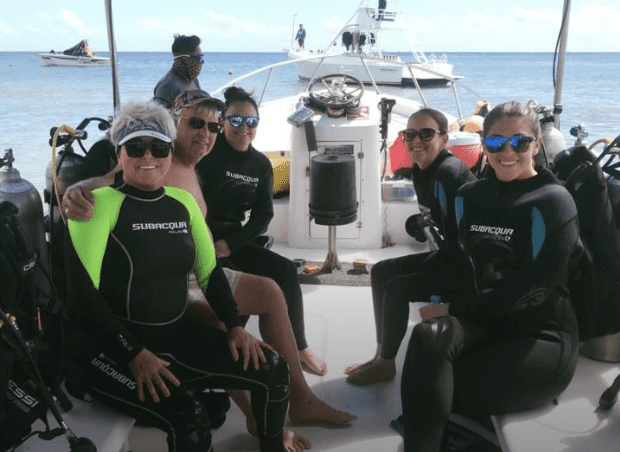 This dive day can be scheduled In the morning from 8am until approximately 12noon, or in the afternoon, from 12noon until 4pm. The dive sites are close to shore on a short boat ride.
Cenotes 
Here in the Yucatan, we are extremely lucky that we can not only dive in the beautiful salty oceans, but also in the freshwaters of the cenotes too. 
Cenotes are underwater sinkholes and cave systems that run through the limestone rock which creates the base of the land here in Mexico. Scuba divers can explore the caverns to see the stunning stalactites and stalagmites in there, which are as old as the dinosaurs!
Depending on your diving level. There are different cenotes to try, with some, like Casa Cenote being more open, and other, more advanced cenotes, such as Dreamgate having quite narrow corridors to navigate.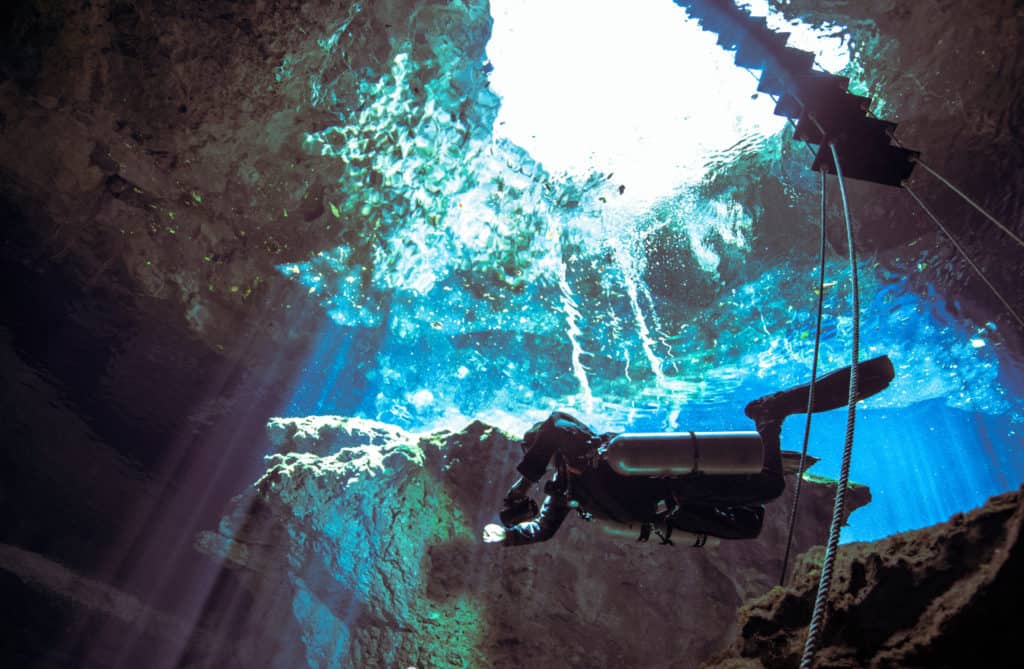 Dos Ojos, the two eyes, is a famed cenote for beginners, but it is also one of the more beautiful ones too. The light beams pierce the water and create dazzling turquoise beams unlike anything you've seen before. Alongside the cavern features, it simply is a marvel of Mother Nature!
But no matter your diving level, you simply MUST try (at least) one cenote whilst you are in the area!
On a cenote diving day, you'll start pretty early, as it can take some time to drive down to the cenote location in the jungle. Keep your eyes peeled for monkeys, wild colorful birds, and other exotic creatures during your day.
Cozumel
Many divers claim Cozumel to be the holy grail of diving – it was claimed to be the best in the world by Jacques Cousteau, so they must be right!
Although close neighbors, Cozumel is quite different from Playa del Carmen in terms of scuba diving. Cozumel boasts stunning, expansive coral structures which are tall and majestic. They're perfect to dive between and examine.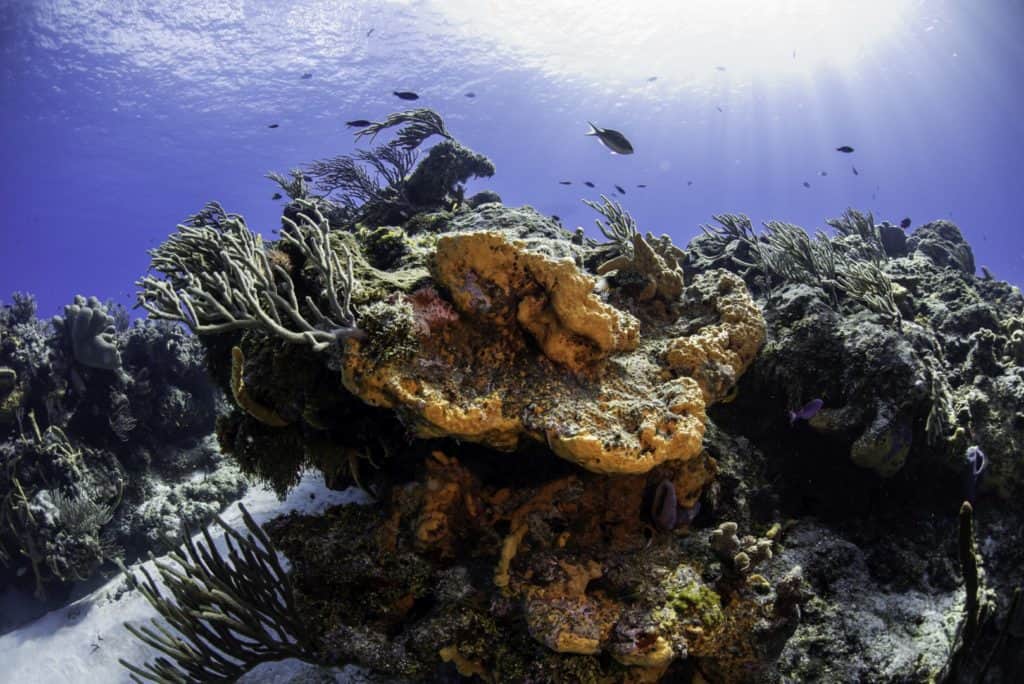 The colors are divine, and you can also visit some sites that have the famed 'drop-off' where you can see where the ocean plummets into intense inky darkness. 
During a Riviera Maya vacation, it can be tricky to get across to the island of Cozumel for a lot of diving, as you need to take the ferry from the mainland, which takes around 40 minutes. 
Luckily, there is another option. At DivePoint, we can take a fast-speed boat across the water directly to Cozumel which takes us straight to the dive sites (we never touch the land!). This takes around 40 minutes, with the bonus that as soon as you arrive, you're ready to dive in and see what all of the Cozumel fuss was about!
The speed boat leaves Playa del Carmen at around 8am and returns at approximately 1pm. There are usually lovely surface interval nibbles and snacks on the boat too!
There is also an option to take the ferry across to dive in Cozumel if you'd prefer, but this is a longer day. 
Experience the Best of the Riviera Maya with a Scuba Diving Package
There are a whole host of incredible dive sites in the Riviera Maya, and a scuba diving package means you don't need to miss out on any of them! Plus, there is the added bonus that there is a discount when buying these 3 dive days as a package, rather than paying individually for each experience. 
Contact us at DivePoint Mexico to explore the ocean reefs and the stunning cenotes so you can see the best of the Mexican Caribbean in a scuba diving package that will be awesome!
We hope you liked this blog post on the Best Scuba Diving Packages in Playa del Carmen. 
Where is your favorite location to dive in the Riviera Maya? Let us know in the comments!
If you enjoyed reading, make sure to read our other blog topics, leave us a comment, or follow us on our Facebook & Instagram pages!