If you think Cozumel has all there is to offer for top scuba diving on Mexico's Caribbean coastline, you'd be mistaken. On the mainland is the town of Playa del Carmen, a great vacation spot. The dive sites in Playa del Carmen are pretty spectacular too! 
---
Playa Del Carmen Dive Sites: Our Top 10
---
The reefs and dive sites in Playa del Carmen belong to the great Mesoamerican barrier reef that spans 4 different countries and stretches for nearly 3000 miles. It is the second-largest reef system in the world (behind the Great Barrier Reef). 
The reefs here are teeming with life, with lots of types of coral, fish, and crustaceans to see too. 
You can split the dive sites here by shallow, or deep, with the shallower usually being around 12 meters in depth, and the deeper ones between 25-30m. So you can confidently create a safe dive plan for multiple dives.
Each site has its own features and unique charm, and all are worthy of this list for their own reasons.
The 10 Best Dive Sites in Playa Del Carmen
# 1 – Cueva del Pargo
Known as 'Cave of the Snapper', this reef is divided into 2 sections, with a maximum depth of around 12 meters. As you enter the site, you follow a shallow wall, covered with coral, anemones, and fish. As you follow the reef you find a quaint horseshoe-shaped area with overhangs that are home to a school of grunts.  
As you 'jump' between the two dive areas there is an interesting patch of seagrass to swim over. Here there's a great chance of seeing rays, or turtles who like to chomp on the grass, and even a rare flying gurnard. 
In the middle of the seagrass, there's also a large statue of a conch shell. Around this sculpture, there are a ton of macro creatures that have made this their home, with tiny blue cleaner shrimp, drum fish, and even eels all spotted here.
On the second part of the reef, you can find an overhang with a small cave, which gives the site its name, this part of the reef has some beautiful corals, including beautiful lettuce corals, and lots of schools of fish.
It's also a great spot for a night dive, where the reef is alive with octopuses and bioluminescent plankton too!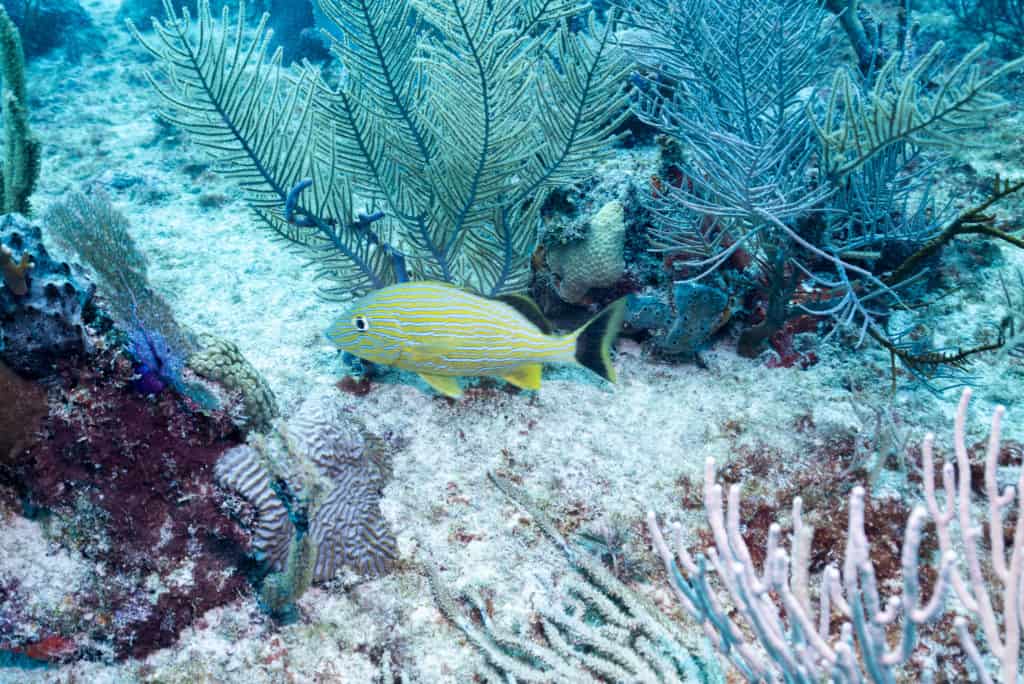 # 2 – Moc Che Shallow
Moc Che reef is the continuation of Cueva del Pargo as it flows further north along the coastline. 
It's around 12-13 meters deep here and it starts with rolling dunes with soft corals growing along them. Further along the reef, you'll find some more coral structures and smaller walls with lots of anemones and tiny critters, like the adorable sexy shrimp. 
This reef is one of my favorites for searching for macro creatures, as there are lots of rocks to peek under, and creatures to find. Definitely a site to bring your underwater camera to!
Towards the end of the dive site, there is a cool swim-through archway, where you can usually find a huge school of grunts and snappers. 
# 3 – Moc Che Deep
This is the deeper part of Moc Che, which has a depth of around 27 meters. It starts at a plateau and gets progressively deeper along the dive. 
On this dive, you'll see lots of beautiful sponges and coral, with a large number of huge barrel sponges, which are a common feature of deep dive sites in the region. 
We've seen eagle rays, turtles, and even a goliath grouper here. You might also spot nurse sharks, and bull sharks during the winter season.
This site takes you closer to the drop-off of Playa del Carmen so there's also a chance of seeing some rarer, bigger sea creatures, at any moment. 
# 4 – Pared Verde
Pared Verde is the 'Green Wall', and one of my favorite dive sites in Playa del Carmen to explore.  It's another deep location, at around 28-29m at the deeper points.  
It's a gorgeous dive site with an obvious plateau structure, and a great wall to drift alongside. The wall has overhangs and small caves to peek inside as you flow in the current.
Beneath you, huge barrel sponges and corals grow. You can keep an eye out for green morays in the overhangs, and as in Moc Che deep, look out for larger sea-faring creatures here too.
# 5 – Barracuda / Sabalos
Although this site is known by two names, it's one long reef, and Barracuda flows into Sabalos, depending on where the boat drops you. 
Sabalos means 'tarpin', which is a type of large silver fish, which can be found in these areas seasonally. It is another shallower reef, on the south end of Playa del Carmen, with a depth of around 15 meters. 
The reef here is arranged in horseshoe-like shapes – unlike some of the other shallow sites in the north side of Playa that feature sand dunes with soft coral, Barracuda & Sabalos have a more obvious structure with little caves to peer into and overhangs where schools of fish like to hang out.
In this area, there's quite a strong current, but as your dive guide takes you along the reef and you jump from one horseshoe to the next, you tend to be protected from the current, and you can explore the crevices and overhangs in peace. 
It's a great reef for underwater photography, as there are lots of fish, lobster, and crabs. If you have a good eye, you can spot great macro life, and even some seahorses here too! 
# 6 – Tortugas
As you may have guessed, Tortugas is Spanish for turtles, and this site is named as it's extremely common to find turtles here. 
It's a drift dive, and as you flow with the moderate current which flows from south to north, you feel like you're flying. The flat surface below is punctuated with giant barrel sponges and as you sail past them, it's great to peek inside to see which critters will be hiding.  
Tortugas reef ranges in depth, with the shoreside being closer to 12 meters deep, but going deeper than 40 meters in places. 
Hawksbill turtles, barracudas, eagle rays, parrotfish, and lionfish often can be seen here. I've even spotted bull sharks down at this site during the winter months.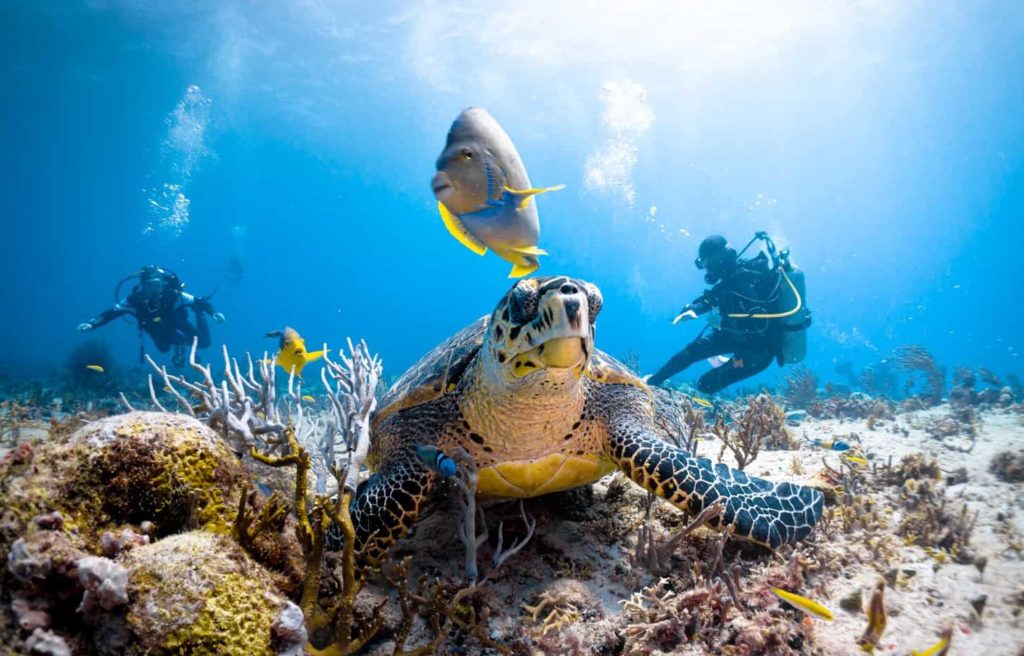 # 7 – Mama Viña
Mama Viña is a shipwreck, which was deliberately sunk off the coast in 1995. It's almost exactly outside the nature park Xcaret, and old rumors say that the wreck was sunk by the park to create a snorkeling attraction for its visitors. 
Unfortunately for the park (but great for the divers) the sinking of the ship didn't quite go as planned, and the wreck ended up a lot deeper than would be accessible for snorkeling… is now sits at around 23 meters deep, making it an advanced dive due to its depth.
Any shipwreck dive is special, but seeing the bow of the Mama Viña appear from the blue gives me a warm fuzzy feeling every time. 
Usually, there's time to circle the boat a couple of times from bottom to top, checking out the range of corals and fish that have transformed this boat into their home. More often than not, you'll find a large green moray eel under the bottom of the boat, so keep your eyes peeled for him too. 
As you circle the boat, you'll feel a strong current, especially as you swim from the stern back toward the bow. You'll need to kick hard, but it's worth it! 
From the rear of the boat, there's an access point to a single room that is often filled with tiny fishes.
As the dive ends, and you begin to surface you use the current to follow a slope along the sea floor, during the slow ascent, you often see giant schools of jacks and barracuda. 
# 8 – Shark Point
Normally only visited in the winter months of November to March (bull shark season), Shark point is – as you may have guessed – the perfect place to see sharks. 
Its depth and location, around 24 meters, means there's not a lot else to see apart from a sandy bottom, and going under to see the bull sharks is a special dive anyway.
The bull sharks that flock here each winter are pregnant females, who come to the area to give birth. In fact, diver professionals who do the shark dive regularly can identify and recognize the different sharks, and see how their tummies grow during the gestation period. At some undisclosed time in February or March, the sharks disappear for a week, where it's believed they go and give birth. They come back much skinnier for a few final days before leaving Playa until the next season.
The bull shark dive is an observation dive, meaning that once you descend, you'll make your way to an observation point and kneel in the sand for the dive. The sharks will surround you, so there's usually plenty to see. A rope is laid down at the site to hold for support if you need it. 
Along with the graceful bulls, you might see a remora or two, who like to bask in the sand in this area.
# 9 – Los Arcos
This is one of the deepest dive sites in Playa del Carmen, with a maximum depth of around 30 meters. 
It's not as common to visit this beautiful dive site on Playa dive trips, as a little further along the coast, but this means when you do go there tend to be fewer divers and more fish in this area.
What gives this reef its name is a spectacular large coral archway that is situated around midway through the reef. It comes after a tunnel swim through, that's also an exciting challenge for advanced divers.
This is probably one of the best areas along the coast to find spotted eagle rays. The current is stronger here, and as rays are a member of the shark and ray family, they like to receive oxygen to their gills. In the stronger currents, they can stay better oxygenated. 
You'll also see some green morays, lobsters, other rays, and larger fish too.
#10 – Jardines 
Jardines dive site is only a short 5-minute boat ride from the main beach in Playa del Carmen. 
Named the 'gardens', Jardines is famed for its expanses of differing coral, but I'd probably rename it 'Aquarium' due to the awesome number of schools of fish that are found here. It's a great beginner's site, but also great for experienced divers who can look for smaller macro life here too. 
It's a shallow dive (approximately 10-11 meters) with a very mild current usually, so you can explore for a long time without worrying about air consumption. 
During this dive as well as swimming along the reef boundary, I also like to explore on top of the reef where between the fans and coral you can spot great macro life including flamingo tongue snails, or cute Christmas tree worms poking out of the rocks.
The most impressive part of Jardines, for me, is around the mid-point of the dive, there's a part of the reef where the fish all seem to congregate, creating a giant wall of fish that spans your entire vision… grunts, porkfish, and oddly affectionate Atlantic spadefish, who can be a little curious of divers who swim by. It's a beautiful and impressive display by Mother Nature! 
This reef is parallel to shark point, so often during shark season, bull sharks can be seen close to this reef too.
Can I do Cenote Diving in Playa Del Carmen?
Absolutely! Although this list only mentions the ocean sites available from Playa del Carmen, cenotes are a special freshwater feature that are only found in this part of the world.
As a diver, you simply must try a cenote dive while you're in the area! The cavern systems can be a little creepy, but they're also completely magical.
Do I Need To Be a Certified Diver To Scuba Dive in Playa Del Carmen?
To dive anywhere in the world you need to be a certified diver. But if you are not, you can try a Discover Scuba Diving Course to begin your skills in the pool and get into the ocean for a half day of diving. 
DivePoint also offers the PADI courses, Open Water Diver, and Advanced Open Water Diver (which allows you to visit the deeper sites). Once completed these licenses allow you not only to visit the dive sites in Playa del Carmen, but to dive anywhere worldwide.
We hope you liked this blog post on the 'Top 10 Dive Sites in Playa del Carmen dive sites'.
If you enjoyed reading, make sure to read our other blog topics, leave us a comment, or follow us on our Facebook & Instagram pages!