In the Riviera Maya, we are extremely lucky to have the option to dive in both the ocean and the magical Cenotes of the region. Dos Ojos Cenote is an extremely popular option for those who have not been diving in a cavern ever before.
---
Cenote Dos Ojos: Your First Cenote Dive
---
For any scuba diver, being beneath the water and blowing bubbles is an exhilarating and wonderful experience, whether it's in the ocean, a quarry, a lake, or a river. But what about cenotes?
Cenotes are 'extra' magical, not simply due to their mysterious past uses for Mayan sacrifices, their fascinating link to the extinction of the dinosaurs, hundreds of thousands of years old formations and for being freshwater pools in the middle of the jungle!
Cenote Dos Ojos is one of the more well-known Cenotes, situated close to Tulum on the Riviera Maya. It's enjoyed by both snorkelers and scuba divers alike and has a wide range of beautiful light rays, impressive stalactites, and stalagmites.
In this blog, we'll explain what makes Cenote Dos Ojos a great first cenote dive.
Cenote Dos Ojos
Cenote Dos Ojos literally translates from Spanish as 'two eyes'. It's named due to its two close by sinkholes that are connected by an underwater corridor.
Within Dos Ojos, there are two different dives leading through different parts of the two Cenotes featured. One is named the Bat Cave and the other, the Barbie line.
Both are beautiful and have their own features, the Bat Cave is a bit darker, and has an area where you can surface and see bats flying around inside an air dome connecting to the surface.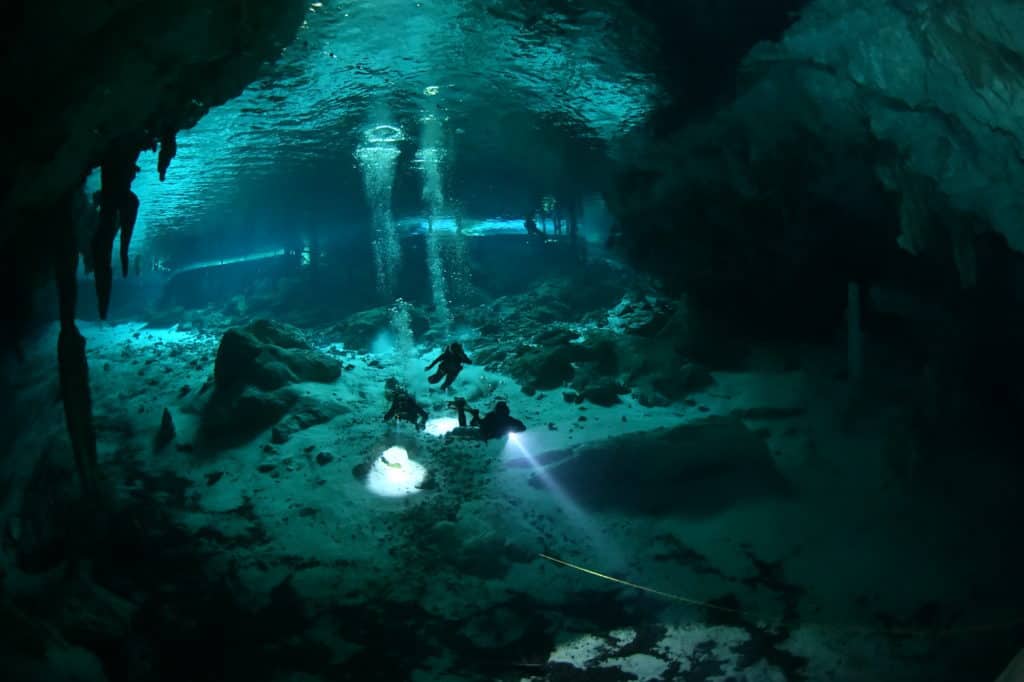 What is a Cavern Dive?
Cenotes form when thin and unstable roofs of subterranean caves collapse and we can use them as an access point to dive in them and the connecting tunnels. Many Cenotes in the region have been mapped, and guidelines have been laid out for divers.
Diving in a Cenote is mostly classified as overhead-environment diving, where you will have a roof over you that prevents direct access to the surface. You can see the rock formations that have taken millions of years to grow and develop in the formerly dry caves and dive from one Cenote to another through tunnels that have solved through the rock over hundreds of centuries.
When recreationally diving in Cenotes, we mostly conduct cavern dives (if you want to try cave dives contact us – as these are very different and require special training, equipment, and experience).
This is still a form of recreational diving, as you should always be within sight of a natural light source and stay within the cavern zone of the cave, following a permanent guideline ending in open water. You will be given dive lights to see through the usually darker cavern.
Never attempt to dive in a cavern without a professional guide if you're not certified to do so, or not familiar with the place.
Do I Need to Be a Certified Diver to Dive Dos Ojos Cenote?
Yes! You need to have your open water certification plus a minimum of 10 logged dives before we will take you to dive in Dos Ojos.
This is for a few reasons:
Firstly, to ensure you are competent enough to be able to dive without being anxious or needing a lot of assistance from your guide, as in the cenote you swim in a 'conga style' line, rather than in buddy pairs.
Secondly, you will need to have good control of your buoyancy. Throughout the dive, there will be a few depth-changes (especially compared with the open ocean!) and we don't want you to bump into and destroy the million-year-old rock structures or crawl on the floor.
We will conduct a weight check prior to every Cenote dive, as these are fresh-water dives and you will need a different amount of wight compared with the salt water of the ocean.
How Does Cenote Diving Differ from Ocean Diving?
Obviously, in the ocean, you have an expansive space to dive, with usually the ability to surface wherever you need to. In a cenote dive, you are in an overhead environment, so you cannot simply pop to the surface once low on air, or if you feel like ending the dive.
In a cenote you follow a pre-laid line that shows you the route, you will always be led by a specially qualified cenote guide.
Gas limits are much tighter than in open water and you will have to pay close attention to your SPG – you can't just breathe your tank down to 800 psi and ascend!
Unlike the ocean, Cenotes are fresh water – so they have no salty taste – or salt to corrode your equipment! But a cenote doesn't have the same life as the ocean, you may see some tiny fish, but not many.
In Cenotes you don't need to worry as much about any drift or current. A few Cenotes might have a slight current you can feel at some points, but most are pretty still.
The visibility in Dos Ojos Cenote is incredible! Here you can see for meters and dozens of meters ahead of you. The thing that will impair your vision first will be the lack of light rather than the percolation underwater.
Cenote water is also a bit colder than the typical Caribbean ocean, with temperatures around 25 degrees Celsius.
How Deep Is Cenote Dos Ojos?
The maximum depth of Dos Ojos is around 8 metres, but most of the dive is less than this.
What Makes Dos Ojos a Good 'First' Cenote Dive?
Lots of Dive Operators, DivePoint included, rate Dos Ojos as a great cenote dive for newbies. This is because it doesn't get too deep into the overhead environment, for uncomfortable or tricky maneuvering. Staying near surface access throughout the dive without necessarily seeing the surface makes it safe and a great experience for first-timers.
There are also lots of exit points throughout the dive in case of an emergency.
But it's also BEAUTIFUL! The fact that there are a lot of natural exits, also means there are lots of opportunities for light to peek into the cenote. The sun's rays beaming in at the right time create laser beams under the water that are truly special to see.
What If I Feel Uncomfortable During My Dive?
Your cenote guide will give you a thorough briefing before the dive to explain to you the differences between cenote and ocean diving. In a cenote you use a torch to get the attention of your guide if needed. They can support you with any issues you may have.

You can end the dive at any time for any reason, and will be brought to the closest exit, no questions asked. Your guide will brief you on how to communicate that underwater.
You will likely be too much in awe at the wondrous surrounding to feel worried!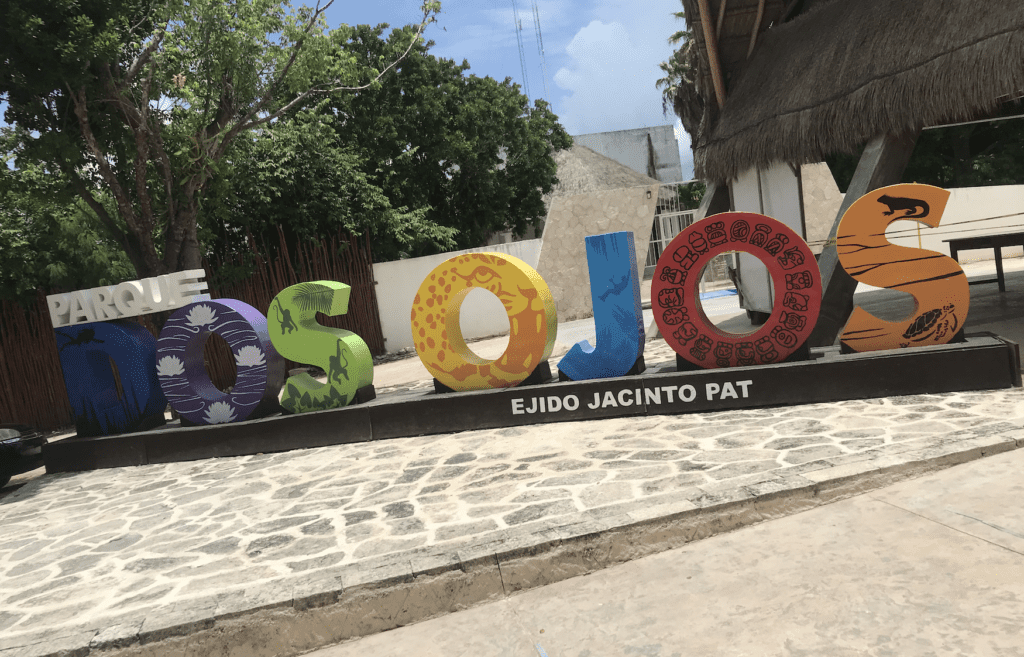 I Love Dos Ojos Cenote! Which Cenote Next?
If you've already tried Dos Ojos Cenote and loved it, there are a ton of other Cenotes to try.
If you're 'Deep' or Advanced Open Water certified, try Cenote 'El Pit', with its crazy hydrogen sulfide cloud layer and mesmerizing light beams.
Cenote Jardin Del Eden is another great cenote, with a rather dense halocline experience as you swim under the rockfall from one cenote to another close by.
Cenote Carwash is filled with impressive waterlilies and colors, especially after the rainy season.
The cavern here is beginner-friendly.
Dreamgate Cenote is another world of incredible structures and needle-like stalactites that needs to be seen to be believed!
This Cenote dive is probably the closest it can get to real cave diving while respecting recreational diving limits.
Try Dos Ojos Cenote Diving Mexico with DivePoint!
Why not try a cenote dive on your next trip to the Riviera Maya? Dos Ojos is the perfect cenote to begin with!
Click here to book your dive day!
We hope you liked this blog post on 'Cenotes Dos Ojos: Your First Cenote Dive'.
If you enjoyed reading, make sure to read our other blog topics, leave us a comment, or follow us on our Facebook & Instagram pages!