Now there's no doubt that diving isn't the most glamorous hobby, and more so when scuba hair is uncontrollable! In this blog, we will show you how to manage the hair problems scuba divers face for healthy luscious locks!
---
How To Keep Hair Out of Face When Scuba Diving!
---
Whenever we get new divers, one of the most frequently asked questions from women (and also a lot of guys with long luscious locks too!) is how to style your long hair when scuba diving.
Spending diving days in salty water, bright burning sun, and the dry sea air are not a good combination for having healthy hair. (We speak from experience!) As well as the water, you also have the pulling and snagging of putting your scuba mask on and off… Silicon straps and hair = ouchies!!
So, there are a lot of factors involved in order to keep your hair looking and feeling at its best when on a diving vacation.
In this blog, we will combine some of our top tips and tricks to solve your scuba hair problems. From the lotions and potions we use, to hairstyles for scuba diving, and scuba hair accessories that will help your hair to stay in its best condition no matter how frequently you dive.
Does Salt Water Damage Hair?
Firstly, let's look at the main issue that's causing scuba hair problems – the salt water. Healthy hair needs to be hydrated, and salt water damaged hair is dry, brittle, and prone to breakage. 
While some types of locks may look great with post-dive beachy waves, the truth is, day after day of sea water on your hair isn't good in the long run. No matter your hair type, as an avid diver you need to take steps to avoid salt water hair damage.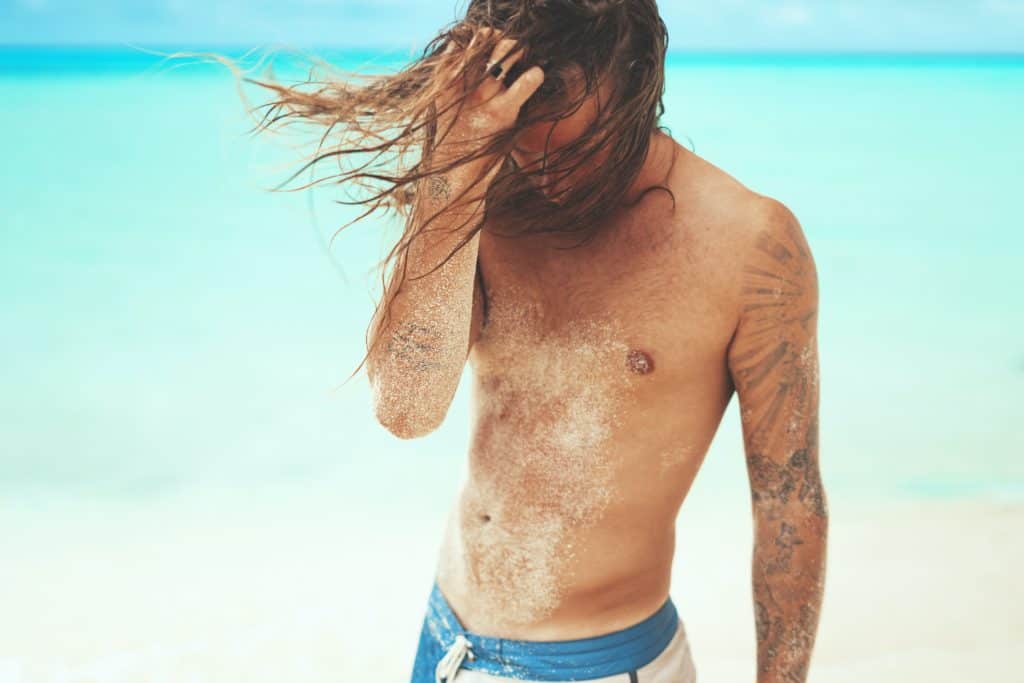 Scuba Diving Hair Protection Products
Nourishing Conditioner
During any dive vacation, it is extremely important to remember that as well as the shampoo and other toiletries that you need to pack, you also need to 'double up' on any products that will soothe and replenish your hair too. Just like you would use an after-sun lotion for your skin, you also need the same for your hair. 
After a day of diving, using a deep nourishing conditioner will help your hair regain its strength. Smother it on your hair after your normal shampooing and comb it through with a wide-toothed comb. For an even better treatment, leave this conditioner in for an hour or two before rinsing.
Leave-In Conditioning Spray
Hair lotions and potions can also be used on the dive boat! A hairdresser once told me that hair is very porous and absorbs liquid like a sponge. If on a dive day, the first liquid your hair encounters is the salty ocean, then the saltiness will be absorbed by your hair. This leaves it prone to breakage and damage. 
One way to prevent this is to ensure your hair is already moist on a dive morning before you back-roll or giant stride in!
You can either simply use fresh water to ensure your hair is wet before you enter the ocean or, if you can be more prepared, you can use a reef-safe leave-in conditioner on your locks before you style your hair to dive. Leaving this damp solution within your tresses will ensure that the porous nature of your hair has already absorbed as much liquid as possible before the salty ocean water touches it.
I also take a mini spray bottle of conditioner and a wide-toothed tangle teaser hairbrush in my dive bag. Once both dives are over, and my gear is packed, I will undo my hair, and spray and carefully comb through my hair on the boat! (Although this is sometimes tricky on a Playa del Carmen dive as all of the dive sites are so close to shore!)
I may get a few funny looks from some other divers, but my hair thanks me for it later on, when I can finally reach the shower!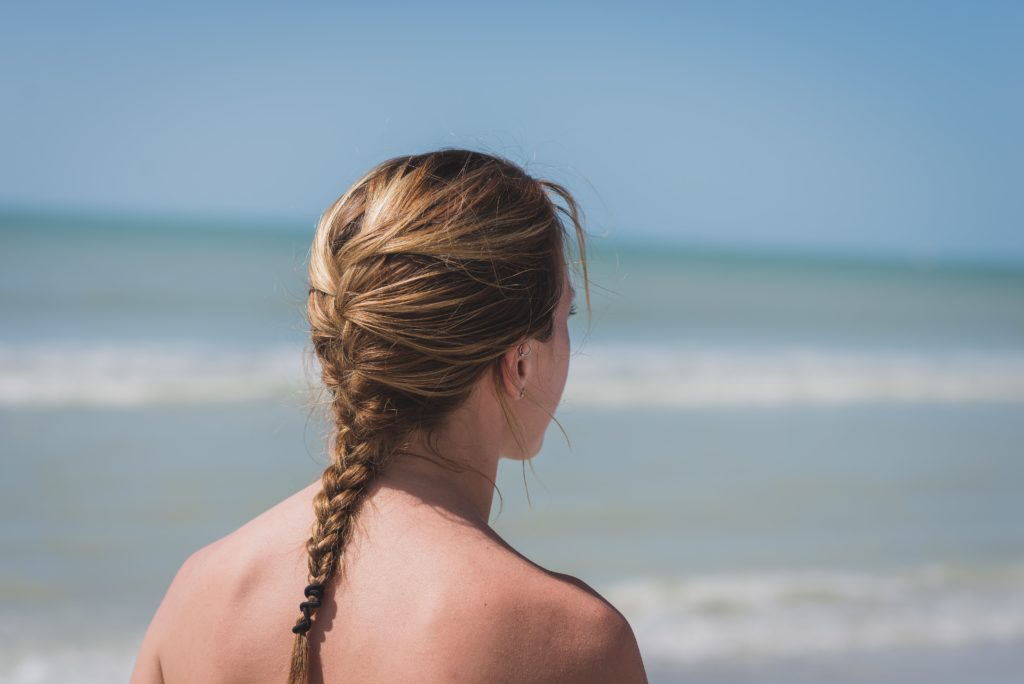 Scuba Diver Hair Styles
When scuba diving, we all know that we need to be physically and mentally prepared to enter the water that goes for our bodies our equipment, and our hair too!
If you have long hair, it is very important to tie it up when diving. Scuba diving with long hair not only is bad for your hair but is also dangerous, as loose tresses can get tangled around the tank valve and can obstruct your vision.
Scuba Diving Hair Braids
Braiding your hair in a French plait or braid is probably one of the most effective ways to keep your hair safe when scuba diving. 
A French braid not only keeps your hair out of your face, but the way it combines your hair along the scalp means that it keeps your hair from tangling and getting more knotted. If you struggle with a braid that uses the hair along the scalp, a simple plait is also a good option and there are many tutorials all over the internet on how to do this type of hairstyle. Doing this style on a dive buddy is also a good tip, as it is much easier to braid a friend's hair than your own!
Scuba Ponytail with Extra Hair Bands
If a hair braid is simply out of your hair skill level then a ponytail will do! However, there is a way to make your standard ponytail, even more, scuba diver friendly – simply tie extra ponytail holder bands down the ponytail, approximately every inch or two apart. 
Female divers with long hair swear by this technique! The ponytail bands can slide out easily and keep all of the loose long hair in place during your dives.
Hair Bun
A hair bun is a good way of ensuring that all your hair is away from your face and ready for diving. But be warned not to overdo it, as an overly tight bun may cause additional breakage. 
One thing to note about a hair bun is the position of it on your head. You need to be aware of where your mask strap will sit and if the bun will be in the way. Also, if you wear a hood for cold water diving a bun may also not be appropriate to fit under the hood.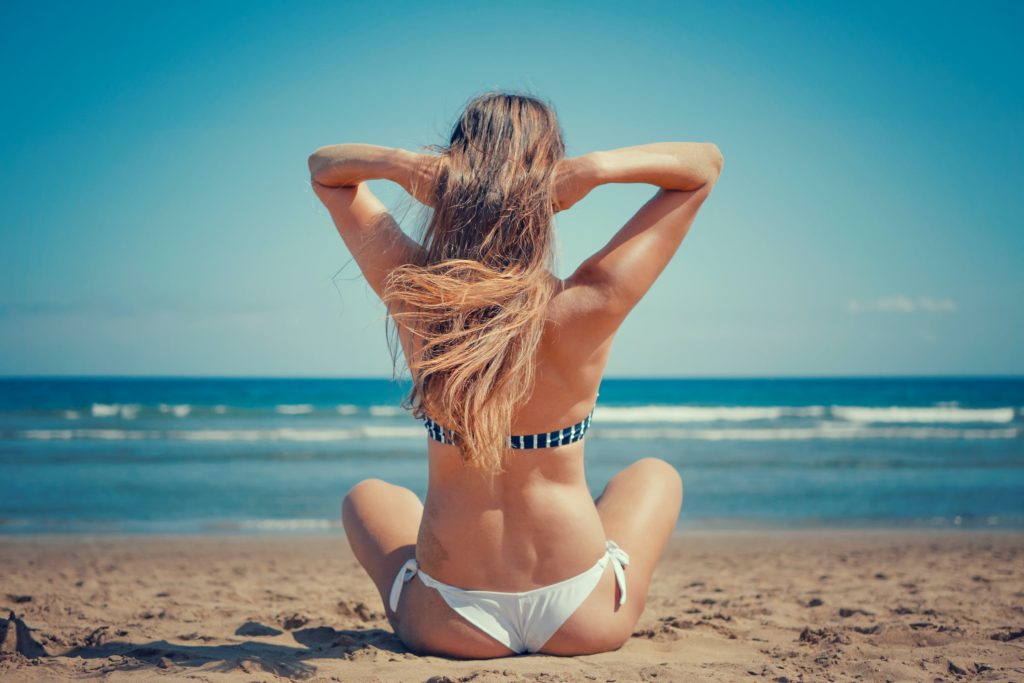 Scuba Diving Hair Accessories
Scuba Diving Hair Wrap
A scuba hair wrap or buff is a great idea for diving. This simple accessory is a tube of material that can be worn around your head to keep your hair away from your face. It will also protect your hair from the destructive rubber snagging from your mask straps. 
Dive Mask Strap Cover
Another game changer for keeping the hair safe when diving is a neoprene mask strap cover. This slides over the silicon straps on your mask, and leaves snagging and scuba hair pulling a thing of the past! I honestly HATE diving without mine now!
Dive In Mexico
But it doesn't matter if you have long hair, short hair, or even if you are completely bald! You are always welcome to join us on a dive in Mexico with DivePoint. 
We can even take you to the magical cenotes, which are freshwater (no salt = happy scuba hair!) 

Contact us to discuss your next diving trip!
We hope you liked this blog post on scuba diving hair care. 
What is your favorite way to style scuba diving women's hair?
If you enjoyed reading, make sure to read our other blog topics, leave us a comment, or follow us on our Facebook & Instagram pages!