Cenote Dos Ojos – Great for the first 2 Cenote Dives!
Open Water Diver, +10 Dives, Age +15
Meeting Time: 08:00 – 08:30AM
Equipment Check and Paperwork
Drive to Cenote Dos Ojos: 40 min approx.
History about the Cenotes, Cavern-dive briefing and first dive
Second dive at Cenote Dos Ojos
Lunch and relaxed surface interval at Juanita Restaurant with local food choices and fresh fruit juices – definitely worth a try!
(Vegetarian and Vegan options available)
Drive back to Playa del Carmen: 40 min approx.
Back at approx. 03:00PM.
Cenote Dos Ojos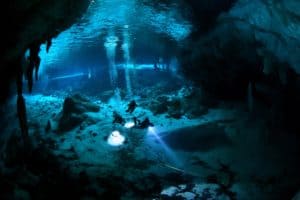 Located just 20 minutes from Tulum Centre, Parque Dos Ojos is one of the first parks that opened its gates to the public with easy access and basic facilities.
Surrounded by the mayan jungle, the Parque Dos Ojos impresses you with clear blue water to dive, snorkel and take a refreshing swim in and la Juanita – a great Mexican restaurant in the heart of the park, next to the Cenote Dos Ojos.
Here you can choose between many different typical Mexican dishes – we recommend taking the regional plate
(you won't find it on the menu – ask your guide)
The Cavern zone of Dos Ojos offers two guidelines which lead through different parts of the cavern.
The maximum depth in both of the dives at this site is 8 meters.
The Barbie-Line
Entering in the Cenote Dos Ojos main-entrance with around 4 meters depth, we will follow one of the lines leading off into the cavern environment.
Your guide will lead the dive with maximum 4 participants.
Diving through a small tunnel to get to the 'second eye' allows us to feel how cave-diving is in the safe environment of a recreational dive-site with a professionally trained guide.
Admiring massive speleothems while making our way through the Cenote and finding out, why this dive is called the 'barbie-line' – you will spend around 45 minutes submerged under the mayan jungle.
The Bat-Cave
After finishing the first dive, changing tanks and having enjoyed a relaxed surface interval, we will get ready and jump in for our second dive of the day – The Bat-Cave!
Upon entering into the overhead environment, we'll find ourselves in a fairly dark and massive room with huge speleothems and some light-bringing small cracks.
Crossing through some more decorations we enter the bat-cave area – where we will see the stunning formations that have formed in and around this immense air-dome over time.
Walls and roofs full of decorations, stalactites and stalagmites can be admired here during the second dive.
Further Info on SCUBA Diving in Cenote Dos Ojos
This is a beginner Cenote diving combination, and suits perfectly as a first-time Cenote diving experience!
Nitrox/Enriched Air certified divers will be provided Nitrox 32% for free.
If you're not Enriched Air/Nitrox Certified yet, we can implement your certification in this Tour!
Get in Touch for booking this Course or Read here why Nitrox Diving is so popular!
Snorkeling at Cenote Dos Ojos
This Cenote Park is a beautiful environment for divers as for non-divers!
It's relatively big open water area and shallow depth in both Cenotes accessible from Dos Ojos entry,
allows to explore lots of corners with only a mask and snorkel!
You can book a local guide to lead you through the covered areas of the cavern and experience nearly the same as the divers down there,
through the bat-cave and back to the entry!
Have non-diving family or friends accompanying you on vacation?
Bring them on this Tour and have them enjoy the day with you, hang out at the Cenote Dos Ojos  and explore the jungle that surrounds it!
Live-vests, Showers, Bathrooms and changing rooms are available on-site.
Please CONTACT US for further information!
The site counts with souvenir-shops, restaurants and small convenience shops as well as a bookable underwater-photographer to make some life-time memories for your living-room wall!
Instructor
Transport
Tanks/Weights/Lamps
Lunch and Water
Entry Fees
2 Dives