When people talk about their favorite dive sites, Cozumel is often ranked more highly than the reef dives of Playa del Carmen. In this blog, we're going to explore is diving better in Cozumel or Playa Del Carmen?
---
Scuba Diving in Playa Del Carmen vs Cozumel
---
Located on the edge of the Caribbean Sea, Playa del Carmen is a great vacation spot, about an hour south of Cancun. With glorious beaches, a lively town filled with bars and restaurants, and many things to do it's no wonder people flock from all over the world to visit. 
But it's not only the above water activities that have people coming back for more. There are also a bunch of great diving sites in Playa del Carmen too. 
Now, you may hear many experienced divers being dismissive of the diving in Playa Del Carmen, and instead will only rave about Cozumel. While Cozumel is beautiful (we're never going to deny that!) there are benefits to diving in Playa del Carmen too. 
Let's look at both options. 
Dive Sites
Both Playa Del Carmen and Cozumel have a variety of dive sites to choose from. Even if you book a few days of diving, you can likely arrange to visit a range of sites without needing to see the same one twice. 
Most Playa del Carmen dive sites tend to have a ridge of reef, and your guide will take you along to see the corals and the many, many fish. You'll find that the shallow sites generally all sit around the 12-meter mark, making them great for marine life as there is a lot of light from the surface. 
There are deeper sites too for advanced divers, with a wall at Pared Verde and the stronger drift of Tortugas. Playa Del Carmen has a shipwreck to explore too.
In Cozumel, there is a range of dive sites too, but more noticeably there are prettier and larger formations of coral here. 
The depths vary, with a lot of the dive sites being close to the 'drop off' such as Santa Rosa, where you can swim along the deeper wall and through the tunnels and cut-throughs in the coral.
There is, again, a LOT of variety of dive sites to choose from in Cozumel, you'll never get bored of going out to dive.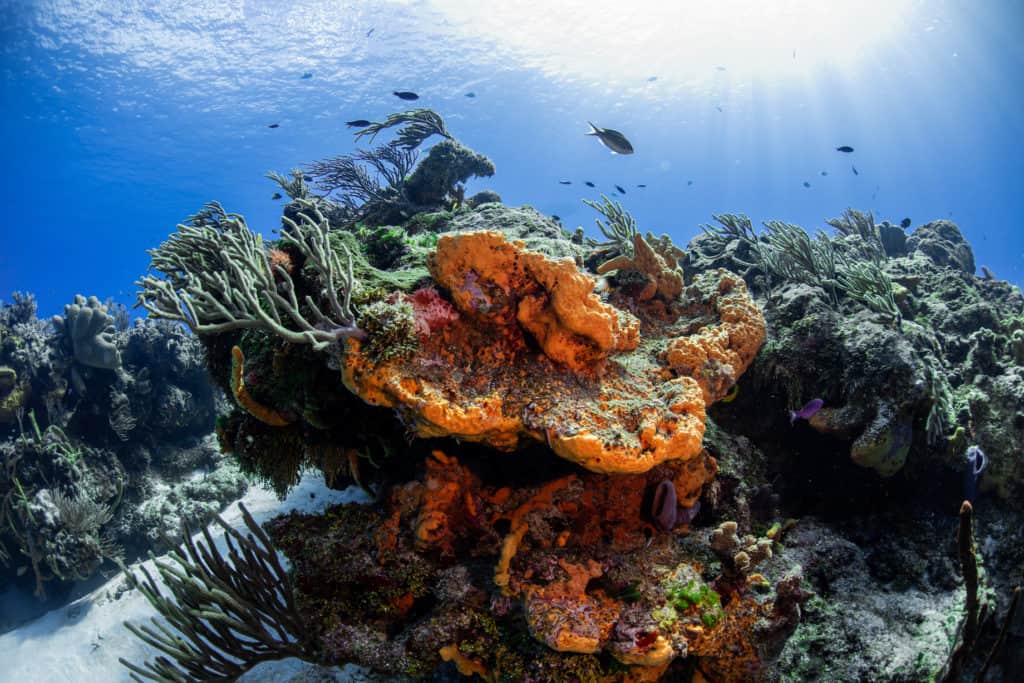 Distance from Shore
In Playa Del Carmen you need a boat to access the dive sites, but luckily, most of them are incredibly close to the shore. You'll usually find that most diving sites in Playa del Carmen are around 5-10 minutes away by boat, meaning by the time you've set your equipment up, you're ready to go!
Some less frequented sites are up to 20-25 minutes away by boat, but the ride is close and parallel to the shore so it's usually pretty smooth. 
Similarly in Cozumel, you'll find the dive sites are really close to the shore, with many being a short 10-minute ride away. The further south your dive site is, obviously it can take longer. 
There is also shore diving available in Cozumel at certain locations too.
From Playa Del Carmen, you can actually take a direct fast boat across to Cozumel to dive, which takes around 45 minutes.
Current / Drift
In Playa Del Carmen you'll find that there often isn't 'much' of a current. Although the water will flow from one way to another, there aren't really any 'drift' sites, except for more towards the south. 
This makes Playa Del Carmen an excellent starting point for beginners. Diving can be tricky enough to get the hang of, with controlling buoyancy, breathing, and maneuvering in dive gear all feeling a bit awkward at first. So, the lack of a noticeably strong current is great for newbies to learn and practice those essential skills. 
In the south, with the sites of Tortugas, Sabalós, and Mama Viña, you'll find there is a stronger current – especially at Tortugas which is a fun drift dive!
In Cozumel, you'll find that nearly all of the sites have a far stronger and more noticeable current. So much so, that once you've found your buoyancy, you barely need to kick for the duration of the dive! You can just let the flow take you along. 
Although great for conserving energy, this obviously comes with some considerations and may not be as comfortable for newer divers.
Shipwrecks
Both Playa Del Carmen and Cozumel have a shipwreck. But Cozumel's is noticeably bigger and more impressive to explore! 
Cozumel's wreck is the C-53, built as a minesweeper for service during World War II and later in life, supporting the Mexican Army by guarding the Gulf of Mexico and the Caribbean Sea.
This large boat is 56 meters long and was sunk to the bottom of the Caribbean in an upright position, with large openings for divers to enter.
The C-53 is at a depth for Open Water divers to visit
The wreck in Playa Del Carmen, Mama Viña is much smaller in comparison. It is an old shrimping boat, which is surrounded by marine life who have made it their home. You can still enter the room at the back of the wreck, and peer in through the windows along the sides. 
As it is much deeper, 25-30 meters, you need to be an Advanced Open Water Diver to visit the shipwreck in Playa Del Carmen.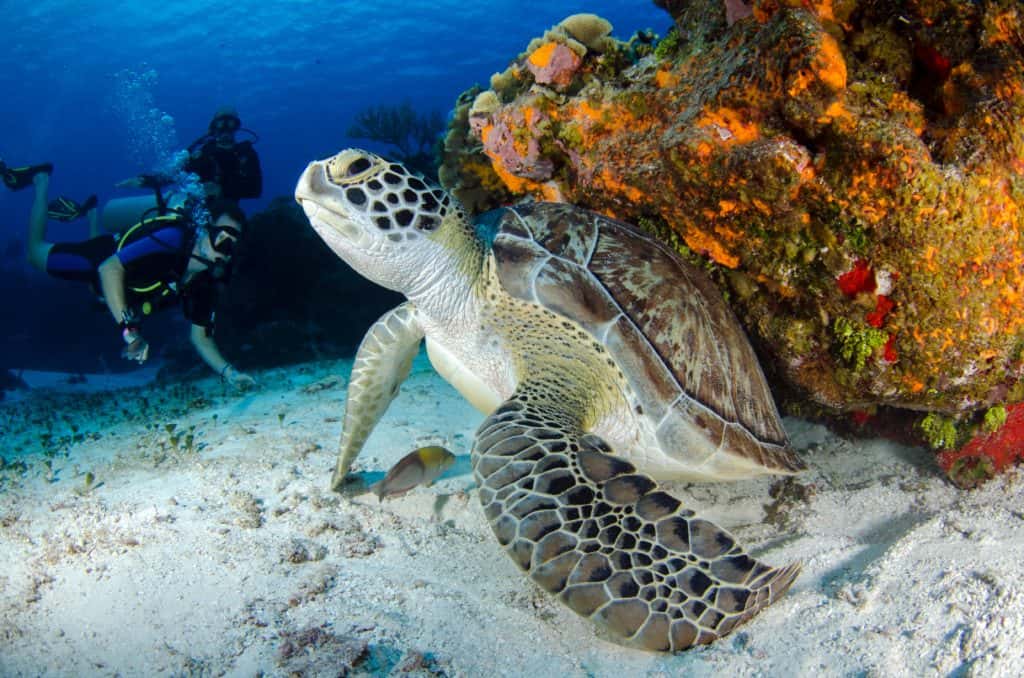 Marine Life
Although the coral is undoubtedly more majestic in Cozumel, people invariably say that there are a lot more fish and marine life to spot in Playa Del Carmen. This is likely since the Playa Del Carmen sites are a bit shallower than in Cozumel. 
In Cozumel, you are more likely to spot certain species such as eagle rays, and the endemic splendid toadfish. 
Playa del Carmen is where you will find bull sharks during the winter season. 
Remember wherever you are though, never touch marine life. 
Cenotes
When taking a vacation to the east coast of Mexico, you simply MUST take a trip to the magical cenotes of the region. Most of the accessible cenotes for scuba diving are on the mainland, so staying in Playa Del Carmen is usually your best bet for cenote dives. (Dos Ojos is a great Cenote to start with if you've never tried diving in caverns before!)
You can take a ferry, which runs hourly, from Playa Del Carmen – Cozumel/Cozumel – Playa Del Carmen, which is about a 40-minute trip, but it makes it a long and tiring day. Plus, it's always best to get to the cenotes as early as possible before the crowds and for the best morning light.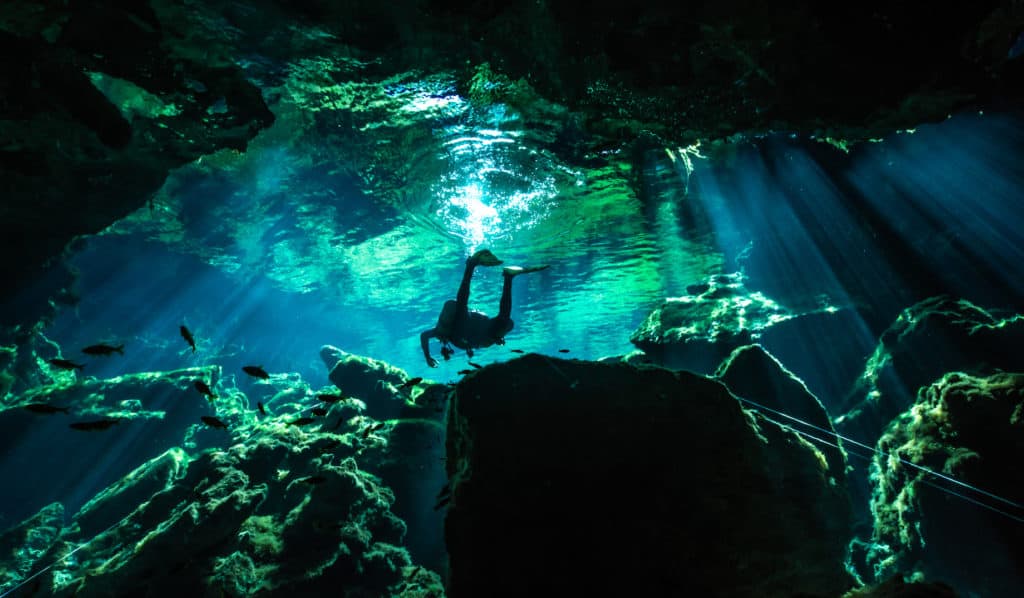 New Divers
A word of advice… quite often we have new divers wondering about the difference between Playa Del Carmen and Cozumel and asking which is 'best'. Personally, I'd say, if you're based in Playa Del Carmen for your vacation and completing an Open Water Diver Course, then you don't really need to head across to Cozumel for your qualification dives. You'll be too busy practicing skills, learning about how your body moves beneath the water, and remembering how to breathe to worry too much about the dive site you're on. 
Plus, the depth and easier current in Playa Del Carmen is ideal for newbies, to learn without being thrown in the proverbial 'deep end!'
There's plenty of time to enjoy the beauty of Cozumel once you're certified and have a little more skill and confidence in your underwater abilities. (You can even book a Cozumel fun dive to celebrate passing your PADI Open Water Course!)
Best of Both?
So, is diving better in Cozumel or Playa Del Carmen – we honestly can't choose and love both for different reasons! With DivePoint you can dive in both Cozumel and Playa Del Carmen and see which you prefer for yourself. 
You can also check out our 'Best of The Riviera Maya Diving Package' which gives you 3 days of diving, one in Playa Del Carmen, one in Cozumel, and one in cenotes to try a little slice of everything!
We hope you liked this blog post on 'Scuba Diving in Cozumel vs Playa del Carmen'. 
What do you think? Is Diving Better in Cozumel or Playa Del Carmen?
If you enjoyed reading, make sure to read our other blog topics, leave us a comment, or follow us on our Facebook & Instagram pages!