As well as the incredible ocean, the Riviera Maya is home to magical cenotes too. But which is the best cenote near Playa Del Carmen for newer divers? Let us tell you!
---
Which Cenotes Near Playa Del Carmen Are Best for Novice Scuba Divers?
---
The Riviera Maya it is a great destination for any scuba diving trip. It has a fantastic combination of both ocean diving from the coast of mainland Mexico, plus the advantageous benefit of being close to the wondrous Cozumel which was where Jacques Cousteau said was some of the most spectacular diving sites in the world.
But Playa Del Carmen is not just for ocean scuba lovers. Here, in this unique part of the world, you can dive in the incredible cenotes too. 
But what actually is a cenote? A cenote is a freshwater hole in the ground that has been made in the bedrock that the Riviera Maya is made from. Some cenotes are open making them wonderful for swimming and snorkeling. Whereas some cenotes are even better for scuba divers as they have cavern areas that you can swim through. Although this sounds a little risky, you can access some cenotes with only an open water certification.
That being said, as a cenote is classed as a cavern dive it can only be completed with some levels of experience. If you are a newer diver, we recommend at least 10 logged dives and – depending on your recent experience – we may also require you to complete an ocean dive with us prior to a cenote dive to check your skills. 
This is for both your own safety and for protecting the precious and wonderful cenotes.  which are made-up of beautiful stalactites and stalagmites that have been there for millions of years. As with any reputable dive provider, we don't want a diver with poor buoyancy control to enter a cenote and bash into and break the ancient structures and ruin it for other scuba divers.
In this blog, we're going to round up the in and outs of the best cenotes near Playa Del Carmen that we at DivePoint recommend for more novice divers (We'll also have blogs on the more intermediate and advanced cenotes coming soon!)
Top Cenote Near Playa Del Carmen for Newer Scuba Divers
Cenote Dos Ojos
Cenote Dos Ojos is literally named the 'two eyes' when translated from Spanish.  This is due to the formation and shape of the cenote which, if you look at it on a map, looks like two eyes. At Dos Ojos Cenote there are two lines you can dive along, surrounding each one of the eyes. One is called the 'Barbie line' and the other is the 'Bat Cave'.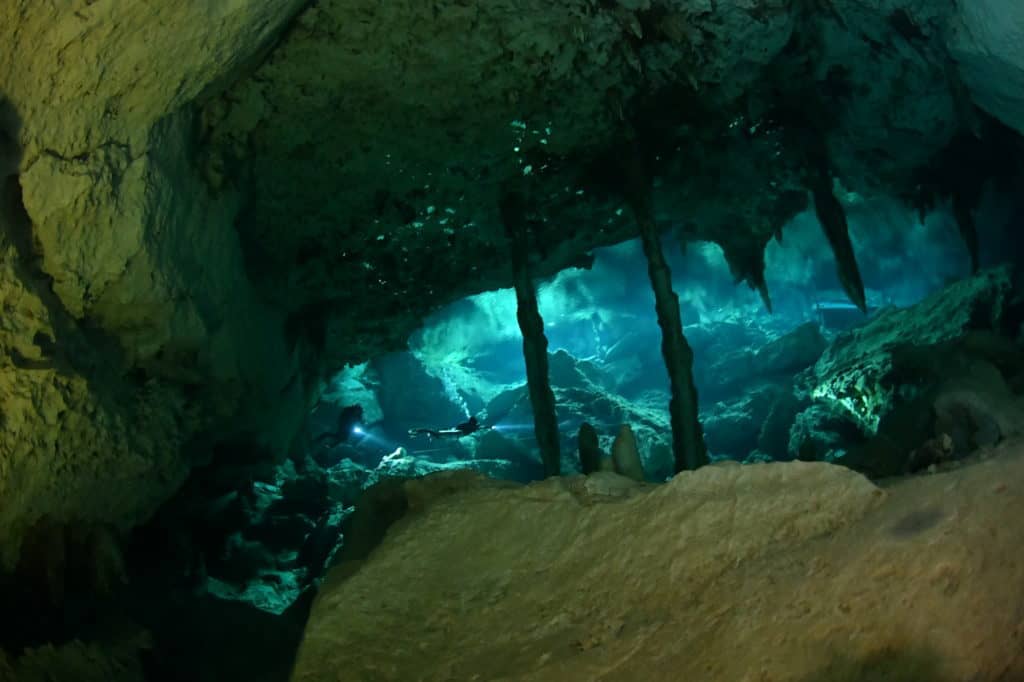 Dos Ojos is a very well-known cenote for divers to enjoy and luckily it's also great for newer divers too, as there are many entrance and access points within the cavern making it a lot more user friendly for divers who have never been in overhead environment before. 
Plus, Dos Ojos is also incredibly beautiful! It's highly decorated with many stalactites and stalagmites. And, the light that enters through the cenote makes it a really enchanting and memorable dive. 
Read more about Dos Ojos as a first cenote dive here.
Cenote Garden Of Eden
As the name suggests Garden of Eden cenote is incredibly beautiful. This is an open cenote and is very popular with swimmers and snorkelers as well as being a great cenote for scuba diving.
While this cenote doesn't have the same organic structures as Dos Ojos and some of the other cenotes, Garden of Eden cenote is still a great option for novice divers. You enter the cavern area which is filled with the fallen bedrock which shows you how the cavern was formed.  As you swim through the darkened and slightly spooky environment you begin to arrive at Cenote Coral which Garden of Eden is attached to. Here the spectacular light show is second to none! The laser beams of light which shine through are truly magical.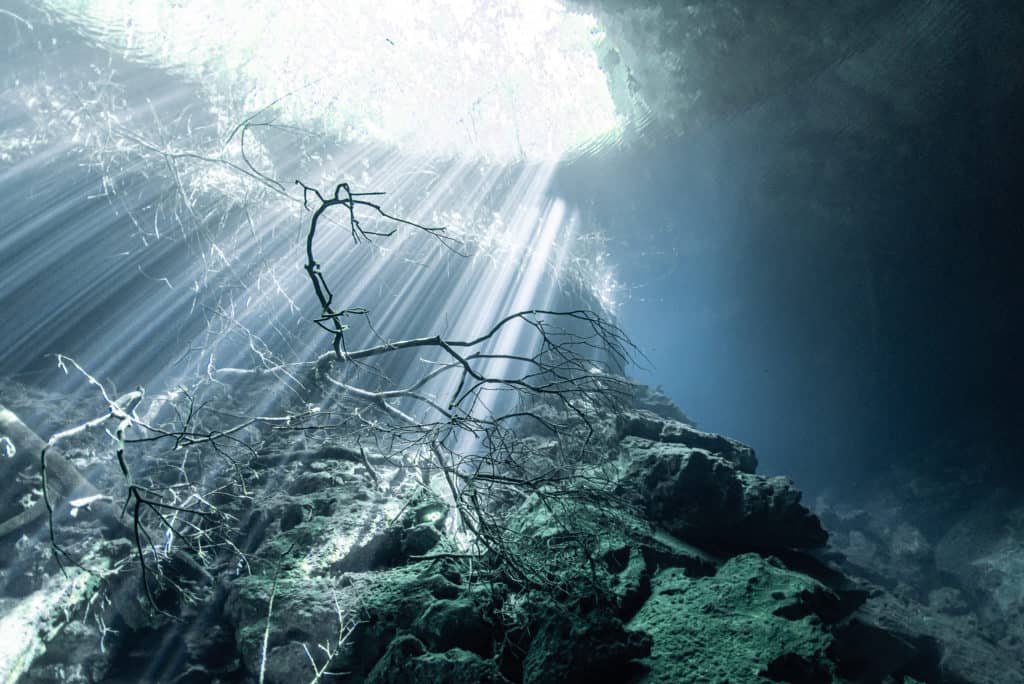 As well as the incredible light show at Eden you will also experience a funky halocline. While you swim through the water flow, you will feel the crazy temperature change and fuzzy visibility in the water. You must try it to really understand how weird and crazy this is!
As the cavern area is a lot wider than in other cenotes, it feels a lot less claustrophobic and is great for newer divers who aren't used to diving in an overhead environment.
Cenote Tajma Ha
The pronunciation may be similar, but Cenote Tajma Ha, is not to be confused with Taj Mahal! Although, ths impressive Indian tomb WAS actually what this dive site was named after. When divers realized the ancient Mayan word for water was 'ha' it was only a little wordplay needed to get it to the name we know it for today!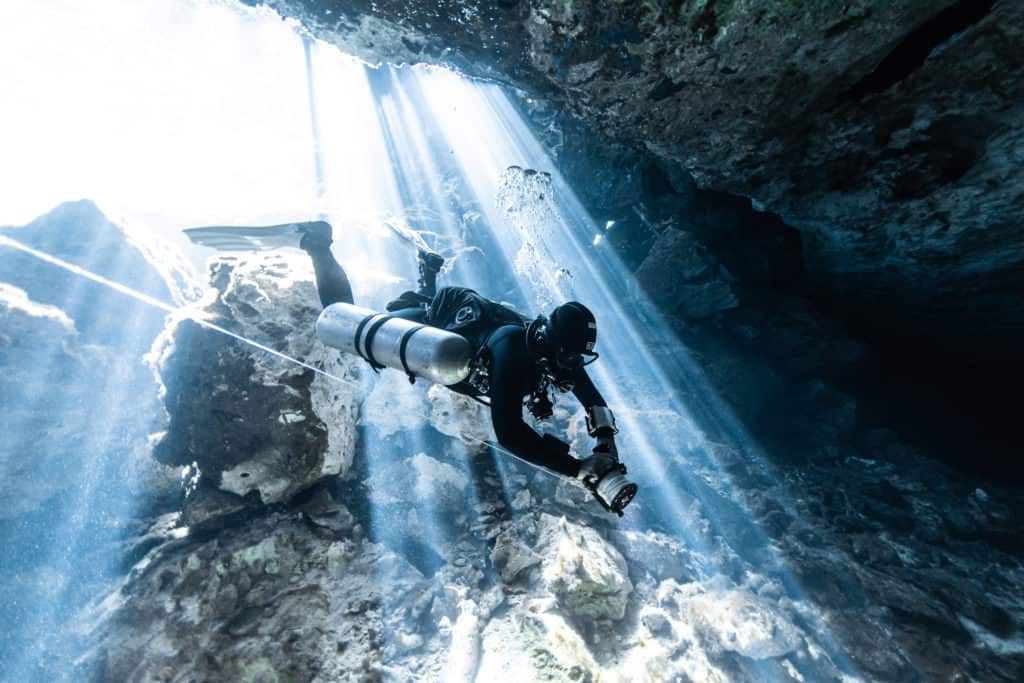 This impressive dive takes you through three different cenotes, Tajma Ha, Cenote Sugarbowl and Cenote Esmerelda. 
There are many decorated areas with thousands of stalactites, plus a halocline through the tunnel area, and a air dome where you can surface to listen to the sounds of the jungle above.
Cenote Chikin Ha
Chickin Ha Cenote near Playa del Carmen, means Western Water, according to the Mayan language of the region. 
This cenote is in a lush jungle area of trees filled with Motmot birds and other wildlife. 
During the dive, you actually begin in one cenote, and dive through a halocline filled tunnel. Here you can feel a temperature change and see the blurred effects as the salt water passes through the fresh water. 
You actually dive through to a second cenote (two for the price of one!) and can see the light and secret colors of Cenote Rainbow, before heading back to Chikin Ha where you began. 
Casa Cenote
Casa Cenote is situated closer to the ocean of the Riviera Maya so unlike most other cenotes this one actually contains salt water. Casa Cenote as it is a large open pool that has a diveable tunnel that stretches through the mangrove area and a ledge underneath the cavern-like shelf at the edge of the cenote. You can also just swim and snorkel here too.
This means that if you are on vacation with the family and non-divers Casa Cenote makes a great day out for everyone.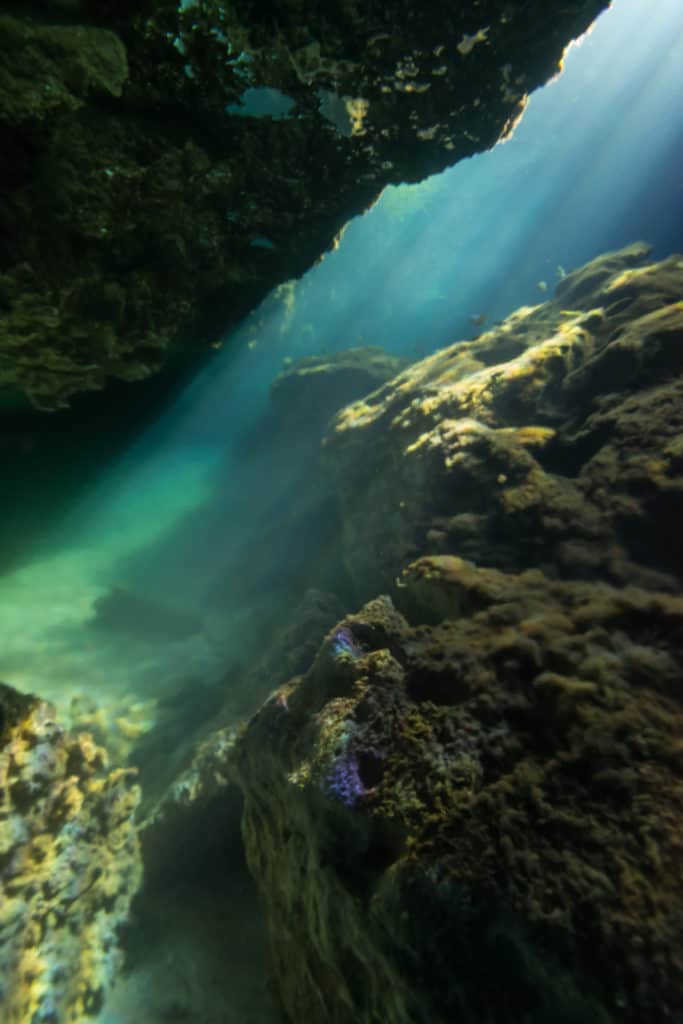 Casa Cenote has a maximum depth of around 6 meters and due to its wide open area, it's actually a cenote where scuba divers can partake in open water training or even enjoy a DSD (Discover Scuba Diving) experience. It's not all just beginner fun though, Casa Cenote is home to a resident crocodile named Pancho who you can swim alongside if you're lucky (or brave!)
Cenote Carwash
Cenote Carwash might be extremely unusually named but in fact, this cenote was once used by the taxi drivers of Tulum to wash their cars!
Thankfully no cars are here anymore, and divers are able to use this cenote for the true natural beauty it beholds. This open cenote has a high water level and is more famous now for the stunning array of water lilies that grow here. As well as an open area diving area, it also leads you into the cavern zone which has lots of speleothems and even some small historic bones from ancient years gone by.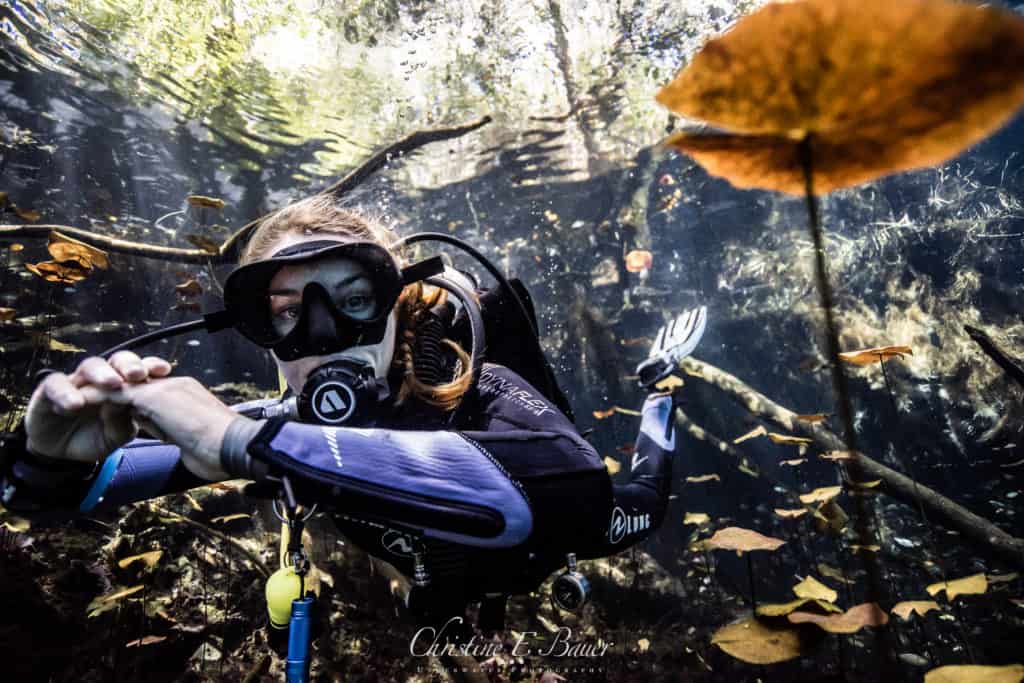 Cenote Carwash also is famous for its seasonal color changes. After high levels of rain during different parts of the year you can experience the tannic water layer which creates a huge rainbow of colors to swim through.
Book A Dive at the Best Cenote near Playa Del Carmen with DivePoint
All of the cenotes listed in this blog are within a 50-minute drive of Playa del Carmen, some are even closer!
They make for a great diving experience for newer divers, and even those who THINK they prefer the ocean are mesmerized and have their heads turned once they have experienced their first cenote dive! They really are impressive.
Even at an Open Water Certified level, you can experience these cavern dives, and if you want to experience more amazing places, there are even more magical cenotes available to Advanced Open Water Divers!
Book your Cenote Dive today, or check out our Scuba Diving packages, which combine the best of ocean and cenote diving in one!
Thanks for reading and we hope you enjoyed this blog about the Best Easy-Dive Cenote near Playa Del Carmen!  
If you enjoyed reading, make sure to read our other blog topics, leave us a comment, or follow us on our Facebook & Instagram pages!