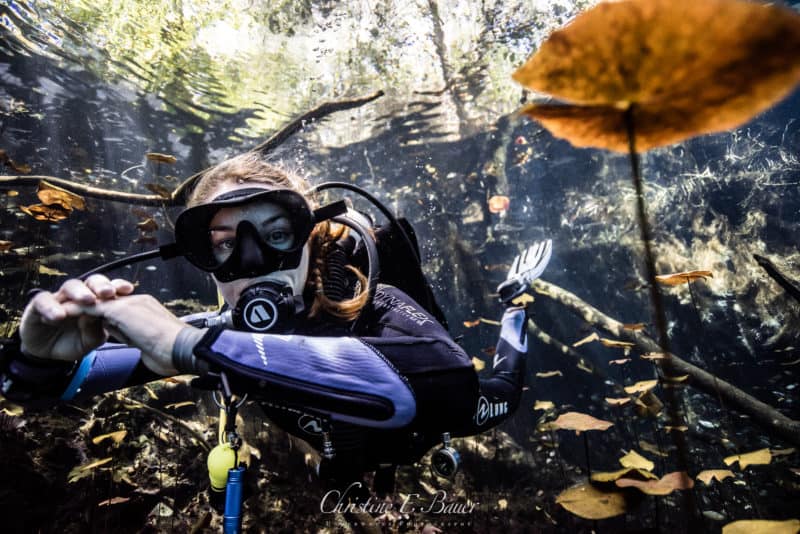 Casa Cenote + Cenote Carwash – 2 Dives – Easy and Fun!
Open Water Diver, +10 Dives, Age +15
Meeting Time: 08:00 – 08:30AM
Equipment Check and Paperwork
Drive to Casa Cenote: 45 min approx.
History about the Cenotes, Cavern-dive briefing and first dive
Lunch and relaxed surface interval between dives and drive to Cenote Carwash
Second dive
Drive back to Playa del Carmen: 40 min approx.
Back at approx. 03:30PM.
Casa Cenote
Also known as Cenote Manati, this one is very close to the Ocean, so unlike most other cenotes, this one contains saltwater. It's a large open cenote with a cavern that has diveable tunnels through the mangroves. It's a perfect cenote for beginners, or families, as it offers a variety of marine-life to see while both snorkelling or diving.
It has a maximum depth of 6 meters making it suitable for entry-level training. The short distance to the harbor in Tulum, make the ocean reefs accessible for a double diving opportunity if you wish.
Cenote Carwash
Carwash Cenote is located some 10 minutes from Tulum Centre, very close to the road, which is why it's called Carwash.
Years ago, this cenote was actually used by the local taxi drivers, to wash their cars!
It's location, with a big open area and a high water level made it perfect. Nowadays nobody cleans their cars here anymore!
The waterlilies growing here make this place unique, and seasonally you can experience the tannic-water layer which creates an amazing array of colors.
The dive leads through the open area as well as the cavern-zone with lots of speleothems, some small bones to a maximum depth of 15 meters.
Instructor
Transport
Tanks/Weights/Lamps
Lunch and Water
Entry Fees
2 Dives