Do you want to buy your first set of diving equipment? This blog post will go over the basic things that a beginner needs to know about buying your first scuba equipment to make sure that you are choosing the right dive gear for your budget and skill level. 
---
What To Look for When Getting Your First Set of Dive Gear
---
It's ever so exciting as a diver to be beneath the water, and one of the signs that you are a 'real' diver is when you start to own your own equipment! 
You can take pride in your own personal gear, and lots of brands have developed equipment in great colors and designs so that you can show your personality under the water too! (Plus, the outrageous colors of some masks and fins can make you easy to spot for your buddy when in murkier waters!)
But how do you know what you need to buy? And what is essential to get first?
Read on to find out!
What equipment is needed for diving?
For scuba diving, the main pieces of equipment you need are:
You may also choose some accessories, such as flashlights, knives, slates, DSMBs, and a gear bag, but these aren't essential for a dive. 
Technical divers use a lot more equipment, but as a beginner, you needn't worry about more than this basic equipment list until you are more experienced.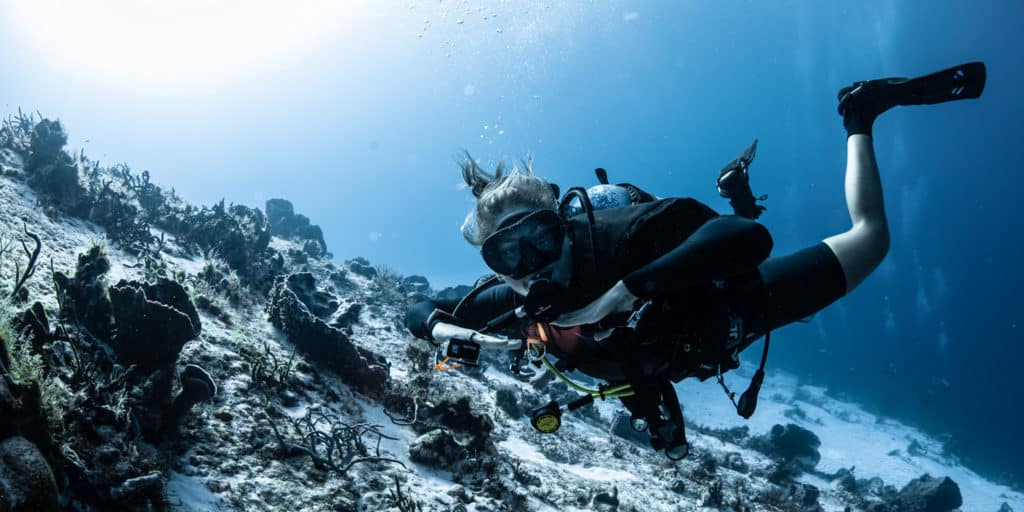 Do I need to buy my own equipment for scuba diving?
Absolutely not! Most dive operators, including DivePoint, offer an equipment rental service as part of their diving packages. 
Some people can get a little over-excited before they've even stepped into the pool on their open water course and buy a full set of equipment! If diving isn't for them, these can often be found almost new on preloved sites like Gumtree and Craigslist! (Always have second-hand equipment serviced before using it for a dive)
Wait until you know that you want to dive and where in the world you'll be doing most of your diving before splashing the cash.
Is it worth buying your own scuba gear?
If you plan on diving frequently, it can make sense to buy equipment in the long run, rather than rent it, but for some vacation divers or infrequent divers, rentals work just fine!
Obviously having your own equipment allows you to have a perfect fit and gear you know is only used by you. 
As a vacation diver it can also be bulky to transport equipment, so renting can be easier and more affordable than checking an extra bag.
What scuba gear should you buy first?
I would say that the two most important pieces of equipment to purchase first are your mask and dive computer. (These are both also small enough to travel with)
Your scuba mask is your window to the underwater world, and allows you to see the wonders below the waves. There's nothing worse than a mask that doesn't quite fit you perfectly, and although many dive shops have different styles and brands in their rental collection to choose from, they still won't always have the 'best' fit for you. 
Having a mask that fits your face well is best for diving as you won't spend the dive purging water from the mask, or clearing it if it gets foggy.
Check out our guide on 'Buying your first scuba diving mask'
Your dive computer is a more expensive piece of equipment, but the valuable information it shares with you during a dive makes it essential to own. 
These computers share your depth, time, and your deco levels, so you can dive to your plan safely. 
Although it is possible to rent a dive computer before a dive, it's better to have a model you know how to use properly, as some have only one button that does many functions. When renting you often get a different model or brand each time.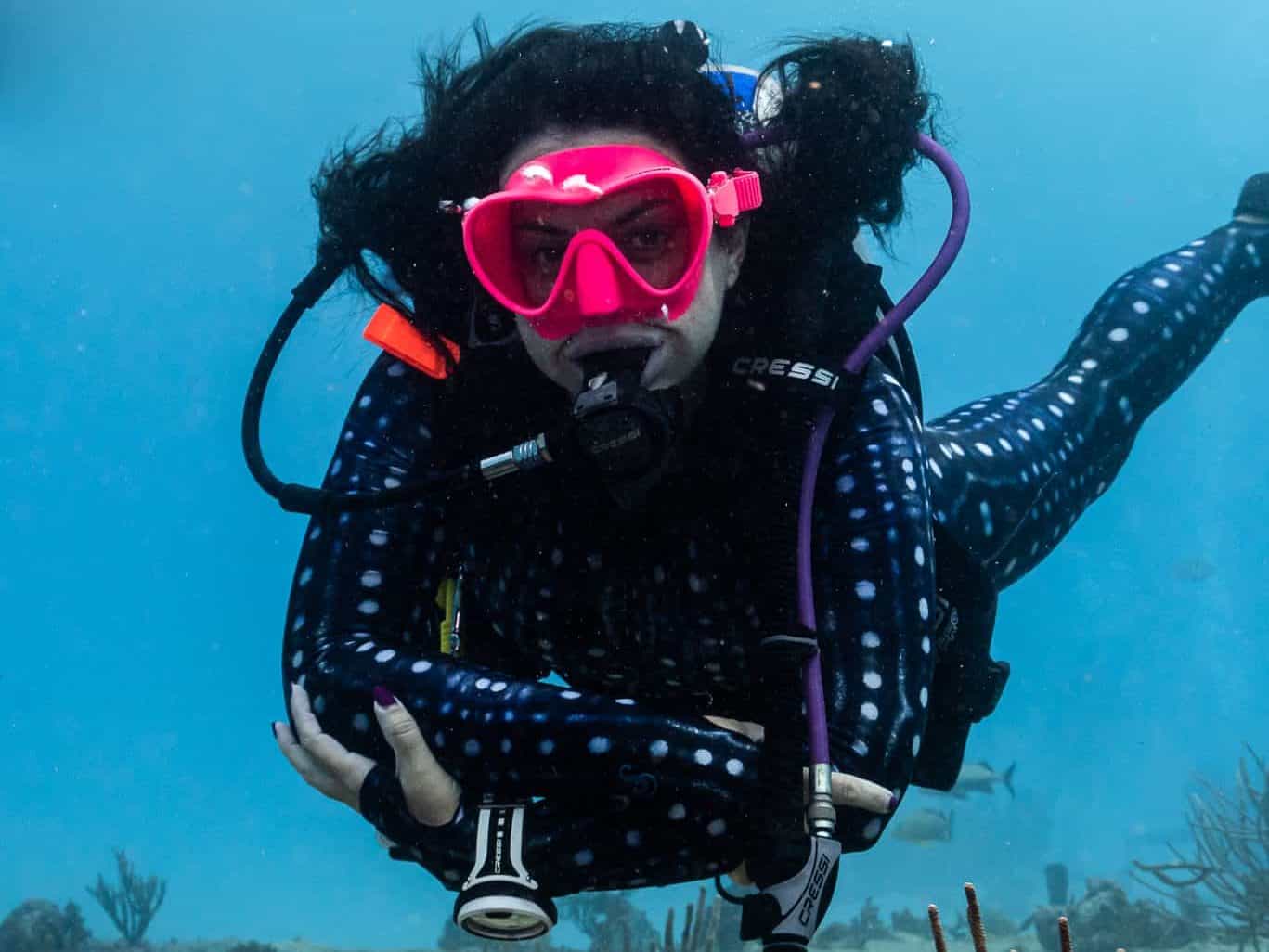 What should I consider when choosing my equipment?
Budget
One thing to keep in mind when buying new equipment is what your budget is going to be like. Buying good-quality gear can get expensive, but it is worth it if you plan on spending lots of time in and around the water! 
Set your budget out as part of your dive equipment plan. It's worth splurging on some pieces of gear, such as a regulator, as this is your literal life source when you dive. Other items, such as wetsuits and booties can be picked up on sales or nearly new with less worry.  
Diving Conditions
Depending on where you plan on diving, will make a huge difference to the equipment you buy. 
Cold water conditions need especially adapted first stages and regulators that are designed to cope with freezing waters. You may also need to consider a dry suit and rock boots rather than a wetsuit too. 
If you're a more temperate diver in tropical waters, a regular wetsuit may be fine. Depending on how cold you get personally, you can choose between different thicknesses. A shortie suit is good for minimal coverage, but a long suit keeps you protected from scrapes and stings as well as keeping you warm.
If you plan on doing more shore dives, you would probably want a pair of scuba boots and heel-strap diving fins, whereas if you're more likely to do boat dives, you may be fine with full-foot fins. 
Home or Vacay?
Think about where you will be doing most of your diving. This does relate to the conditions, as mentioned above, as you may only need gear designed for tropical waters, but it also can affect the size and weight of the equipment you choose.
Dive equipment can get heavy and some can be bulky too. Some brands have specifically designed travel equipment for divers who prefer vacation trips. The main travel options usually are for fins, which are a little shorter and lighter; BCDs, which can be more compact and foldable; and regulators, which are smaller and more lightweight. 
Local Availability
When buying equipment, try to buy from your local dive shop, as then you have a point of contact if something ever goes wrong with your equipment. Also, if your equipment is stocked by your local dive shop, they are also usually able to service your equipment too. 
Even if you buy online, think about servicing considerations and choose a regulator that is easy to get serviced and find parts for in your local area.
Try Before You Buy
Find opportunities to rent equipment before you make the plunge into buying it for yourself. Dive gear can be pricey, so it's always good to give things a test run. 
BCDs are especially good to try different options of, as people can have different body shapes and some fit differently to others. There is also a difference between a jacket and back wing setup, that you might want to try before buying.
Reviews
Check out the reviews online and from the dive community before buying equipment. Divers often have great advice and input about what equipment they love, and what they would steer clear of.
How much does a full set of diving equipment cost?
Buying scuba gear isn't cheap! A basic set of equipment can start at around $1000, and increases from there! The beauty is you really don't need to buy everything at once. 
Buy as you go, and rent what you don't have. You don't need to rush to buy equipment you can't afford.
You can sometimes find scuba gear packages sold together for a special combined price. These are worth looking for too.
Scuba Diving Equipment List
Here are our top tips for choosing each item in your scuba gear setup:
Mask
Choose a mask that fits your face well – always try it on before buying. 
Fins
Research into heel strap fins with boots or full foot fins. Some are longer and stronger for harsher currents. 
Some divers prefer split fins, as they cut through the water with much less resistance than a paddle fin. They are usually a little lighter and can be easier to handle, so are good for those who have knee injuries.
Buoyancy Control Device (BCD)
Check the fit of your BCD and where the air is distributed. A wing can take some getting used to compared with a jacket fit, so these are important to try on a dive before forking out on. 
Regulator
The most important aspects are where you will be diving and how you can get them serviced. This is where you want to do your research, some brands are cheap, and others can be pricey. But they're worth it.
Wetsuit
Check the length of the wetsuit you will need and also the thickness.
A short suit might be great for keeping you a little warmer in tropical waters, but won't protect you from stings or nasty fire corals. 
Long suits can and usually come in thicknesses of 3mm / 5mm / 7mm.
If you're super warm-blooded, you may also consider just getting a lycra rashguard and leggings to dive in too.
Dive Computer
These can vary in price depending on the type of diving you will do. As a beginner diver look for something that is clear to read, but will allow you to dive with nitrox too.  
Buying Your First Scuba Equipment
Remember that it really isn't necessary to own all of your equipment yourself. Especially as a vacation diver, you may just want to have a few key items personally, that are small and easy to travel with and rent the rest of the equipment at your dive location.
At DivePoint we have a wide range of quality rental equipment for our divers to use when they dive with us. 
Come and join us to explore the incredible Caribbean ocean, or wonderous cenotes on your next Mexico vacation. 
We hope you liked this blog post on 'How to choose your first set of scuba gear'.
If you enjoyed reading, make sure to read our other blog topics, leave us a comment, or follow us on our Facebook & Instagram pages!