We all know that Cozumel is home to some of the best reefs in the world, but what is a Cozumel scuba diving day like… Let us show you!
Scuba Diving in Cozumel: A Guide to a Day Trip from Playa del Carmen
As you stand on the shore of Playa del Carmen, in the distance you can see the island of Cozumel. Although it isn't far away, this neighboring island is a scuba divers wonderland and has a topography different from the ocean reefs of the mainland. 
Jacques Cousteau, the French oceanographer, even claimed Cozumel to be one of the most beautiful places on Earth, with the vast underwater reefs being truly spectacular. 
So, do you need to be staying in Cozumel to experience the reefs there? Absolutely not! You can still dive in Cozumel and enjoy the famous waters from a vacation based in Playa del Carmen too! And, what's more, there are a couple of ways to do it! 

In this blog we are going to give you the lowdown on what a Cozumel scuba diving day looks like! (Spoiler alert: It's amazing!)
Marine Park Cozumel 
Cozumel is a protected marine park, with the reefs here protected south of the cruise ship docks and downtown area all the way to Punta Sur which is at the southern tip of the island. 
Being protected by the marine park means that the reefs are taken care of and there are a few extra rules that you need to follow to conserve this wonderful place. 
The rules are simple and if you are a good diver, you will generally follow them anyway. They include not wearing sunscreen that is not biodegradable and reef safe, not standing on the coral reefs, not disturbing any sea creatures, not littering and leaving any waste behind, along with many other rules to protect marine life and reefs.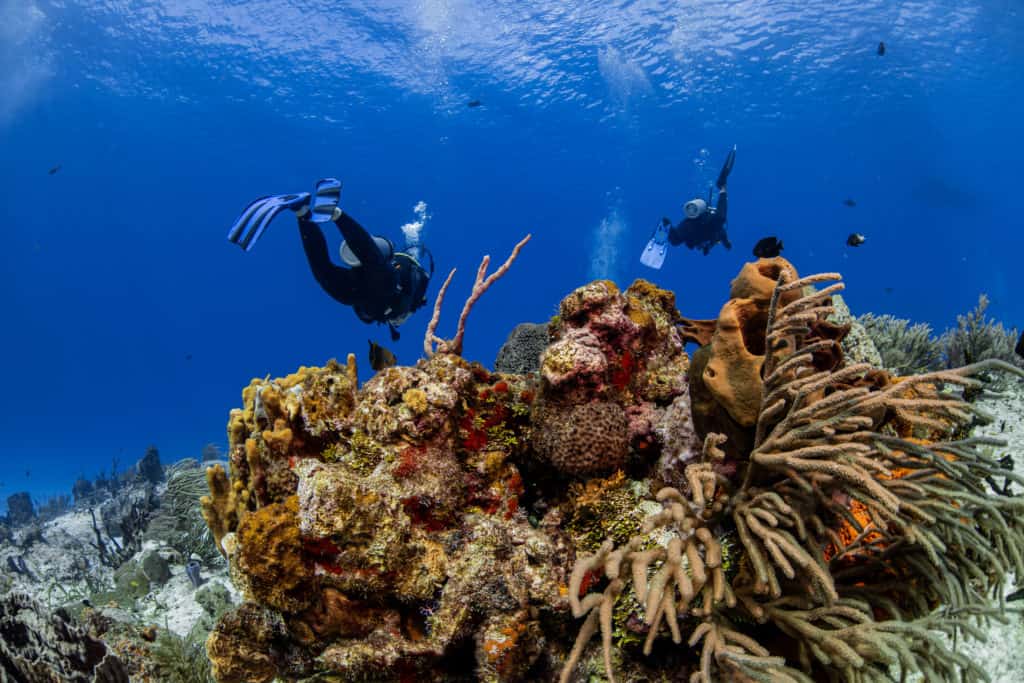 Cozumel Island
Cozumel itself is a pretty small island off the coast of Caribbean Mexico. The island is mainly catered to tourists and the main activities here are on the water. If you take a stroll around town, you will notice the huge number of dive shops and people wanting to take you on diving and snorkeling excursions!
Cozumel also is a large cruise destination with many cruise ship tourists embarking on the shores of the island each day. This means that during the daytime, the island is busy and bustling but at night it's actually rather quiet and serene.
The main Plaza of Cozumel is opposite the ferry terminal where you can have your picture taken with the famous Cozumel sign. You'll also find some bars and restaurants in this area too.
For non-divers in your group, Cozumel does have a number of beach clubs and snorkeling areas to explore. Another fun adventure is to hire some scooters or an open-top Jeep and take a tour of the perimeter of the island.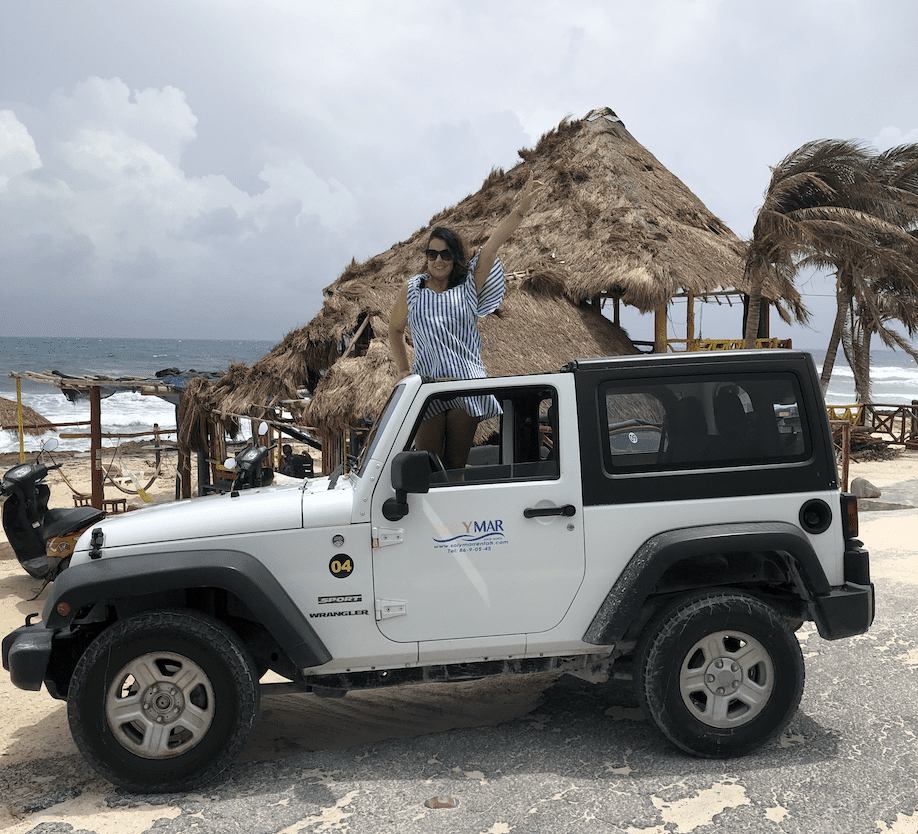 A Day of Cozumel Scuba Diving
There are two main ways to dive in Cozumel when on a day trip, either via the fast boat direct from the shore of Playa del Carmen, or by taking the ferry.
Taking the Fast Boat to Cozumel
The fast boat to Cozumel from Playa del Carmen is probably the more popular option for a dive day. This is because it is a lot faster than the ferry option.
When taking the fast boat you will meet at Coco beach which is where most of the dive boats depart from in Playa del Carmen. The meeting time is usually around 8:00am, where you will meet your buddies, gear up, and make sure you have all your equipment before heading onto the boat. The fast boats that go across to Cozumel from Playa del Carmen are a little bit larger than the usual dive boats. Once on board, you will set your equipment up and then brace yourself for the ride across to Cozumel.
The boat ride to Cozumel usually takes between 35 and 50 minutes depending on which reefs you plan to visit in the waters over there. Some days the ocean can be as smooth as a lake, and other days it can be a little bit bumpy and choppy. 
A top tip is to wear a pair of cheap sunglasses to keep the water out of your eyes that splashes up and to where your wet suit on the ride over to keep you warm. Make sure that you have any belongings in a waterproof bag.
Once at the reefs, it's like any other dive boat – a giant stride in and you're off to see the incredible colors and structures of Cozumel!
An extra treat on these Cozumel boats is that they provide some little snacks during your surface interval! Nothing tastes better than that nibble between Cozumel scuba diving immersions!
You'll then take a second dive at a different dive site before heading back to the boat.
When you take the fast boat option you never actually set foot on land in Cozumel but simply do your diving direct from the boat that you are on. After your two dives, you pack up and the boat returns to the beach in Playa del Carmen. This is usually at around 1:30pm. Leaving you with a full afternoon to enjoy the rest of your vacay!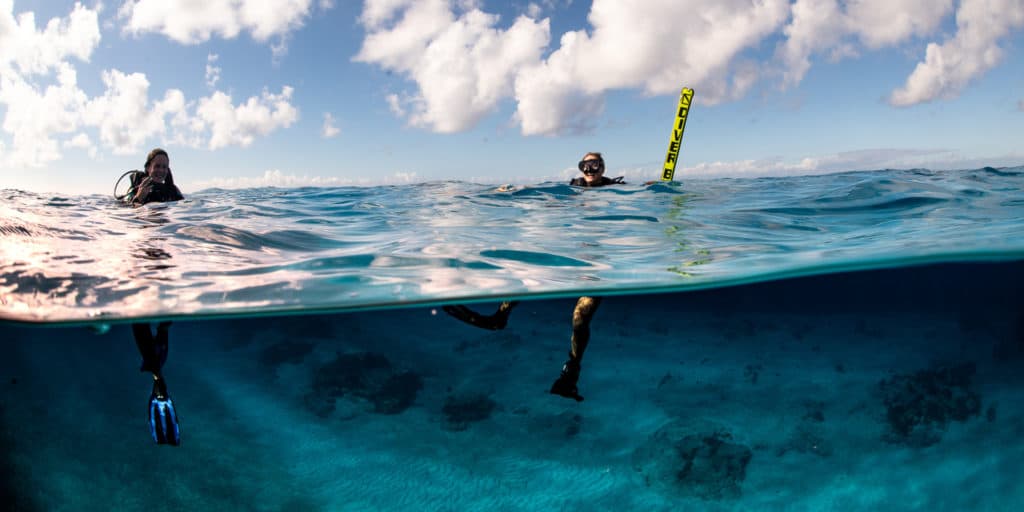 Taking the Ferry from Playa del Carmen to Cozumel
Another option for a Cozumel scuba diving day is to take the ferry. When taking the ferry, the day begins a little earlier as you need to be at the ferry terminal in Playa del Carmen ready to take the ferry across. Your guide will inform you of meeting times.
The ferry takes around 40 minutes to get across to Cozumel, and is usually pretty smooth. The ferries are well equipped for tourists, with snacks available to buy on board, bathrooms, and often even mariachis and other live entertainment. You can sit either inside the cabin, or on nice days, it's lovely to sit on the top deck and watch the views (make sure you are wearing sunscreen and a hat though – that short trip can burn!)
Once in Cozumel, it's a short taxi ride to the marina to get to your boat. You board and meet your crew before setting off on your two-tank dive. 
As with other boat dives, you'll have a short surface interval and change dive sites for the second immersion, before heading back to land.
The ferry makes a good option if you want to see a little of Cozumel island as well as diving. 
Check with your guide and you may be able to plan a little extra sightseeing time before heading back on the ferry. 
This way of diving in Cozumel does take a bit longer, and you aren't usually back in Playa del Carmen until around 5pm.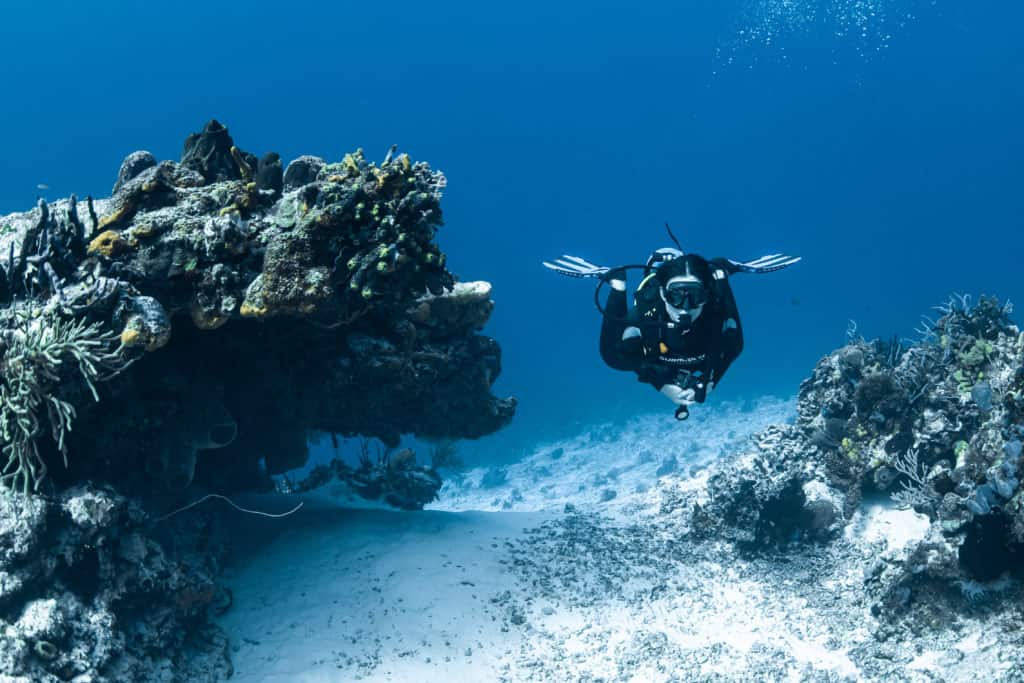 Marine Life in Cozumel
The marine life that can be found in Cozumel is pretty similar to the marine life in Playa del Carmen  (see blog here!) The exception being that in Cozumel you have a slightly larger chance of seeing a few more exciting inhabitants too!
Spotted Eagle Rays
You never are quite sure what the ocean will bring you and spotted eagle rays are oh-so-beautiful to see on a Cozumel dive. They are usually spotted more in the winter months from around November to March but, if you're lucky, you can see them at any point of the year.
These shy creatures will usually avoid divers, so if you happen to see one stay calm, keep your distance, never try to touch it, and it will stick around for a little bit longer. If you chase it, it will disappear faster than you can swim!
The pattern of a spotted eagle ray is stunning with every one of them being completely unique. You'll mainly find these beautiful animals in slightly deeper waters and in dive sites with a little bit of a stronger current. But they are known to frequent shallow spots too.
They often travel in pairs or small groups, so look for others if you see one!
Splendid Toadfish 
If you peek under the rocky overhangs and between the coral structures you may come across the endemic Cozumel splendid toadfish. 
Like other members of the toadfish family, this one is well known for its vibrant colors. When it pokes out of its hiding place you will see its head which has dark and white stripes and distinctive whisker-like barbells.
Cozumel Reefs 
There are many, many dive sites on the Mesoamerica reef which Cozumel is part of. Here the dive sites can be shallow but there are also a lot of deeper areas that have incredible drop-offs into the inky black ocean below.
Famous dive sites here include the Santa Rosa wall, Paseo del Cedral, and the many dive sites at Palancar. There is also the C-53 famous shipwreck to explore too.
On a Cozumel scuba diving day, you will usually explore a deep reef on your first dive, and a shallow site on the second tank (depending on your scuba certification level)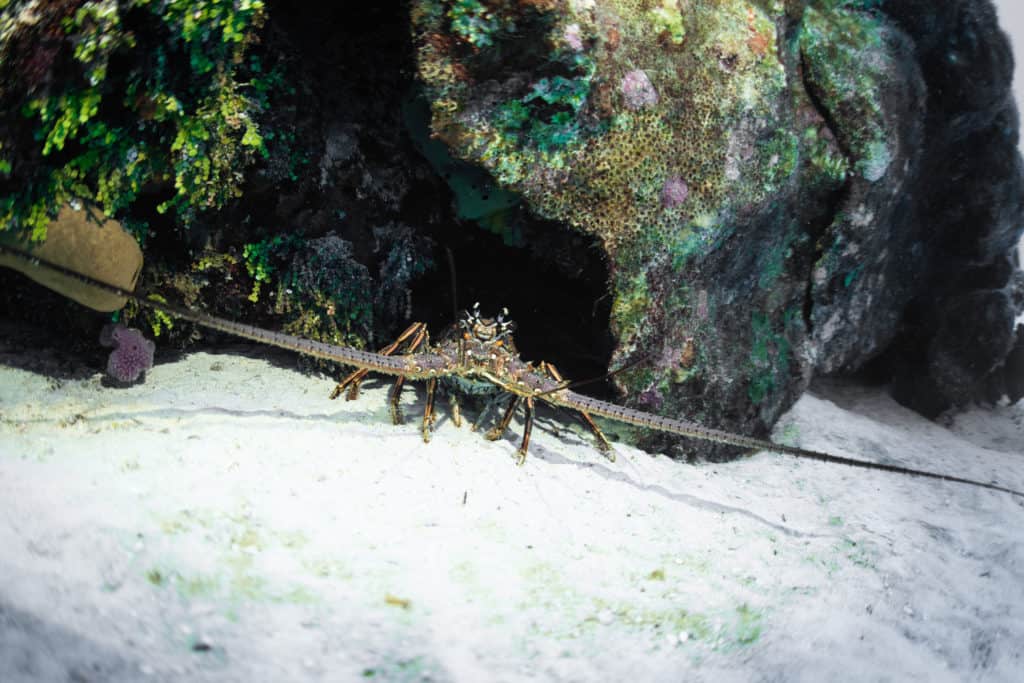 Try a Cozumel Scuba Diving day with Divepoint 
You can book a Cozumel scuba diving day and see for yourself if it really is better than diving in Playa del Carmen (we wrote a blog about that too!)
You might also decide to combine your dive trip to Cozumel with a day at the magical Cenotes in one of our great scuba diving packages. 
You can choose your day – ferry or fast boat. Either way, it'll be a day to remember! Just don't forget the underwater camera!!
Thanks for reading and we hope you enjoyed this blog about Cozumel Scuba Diving!  
If you enjoyed reading, make sure to read our other blog topics, leave us a comment, or follow us on our Facebook & Instagram pages!