When you begin to learn about scuba, it's usually the standard backmount set-up that you begin with, but what about diving with more than one tank? Welcome to the world of sidemount diving!
Specialty Courses: Sidemount Diver 
What happens when you want to go deeper, dive for longer, or experience more down below than ever before? You need more air, and therefore, more tanks, and a new set-up… sidemount!
But sidemount diving isn't only for deep tech diving explorers or those who want more air. This set-up has many uses in the recreational diving world too, including for those with back issues.
We're going to explain more about the sidemount diving specialty and what exactly this different set-up entails.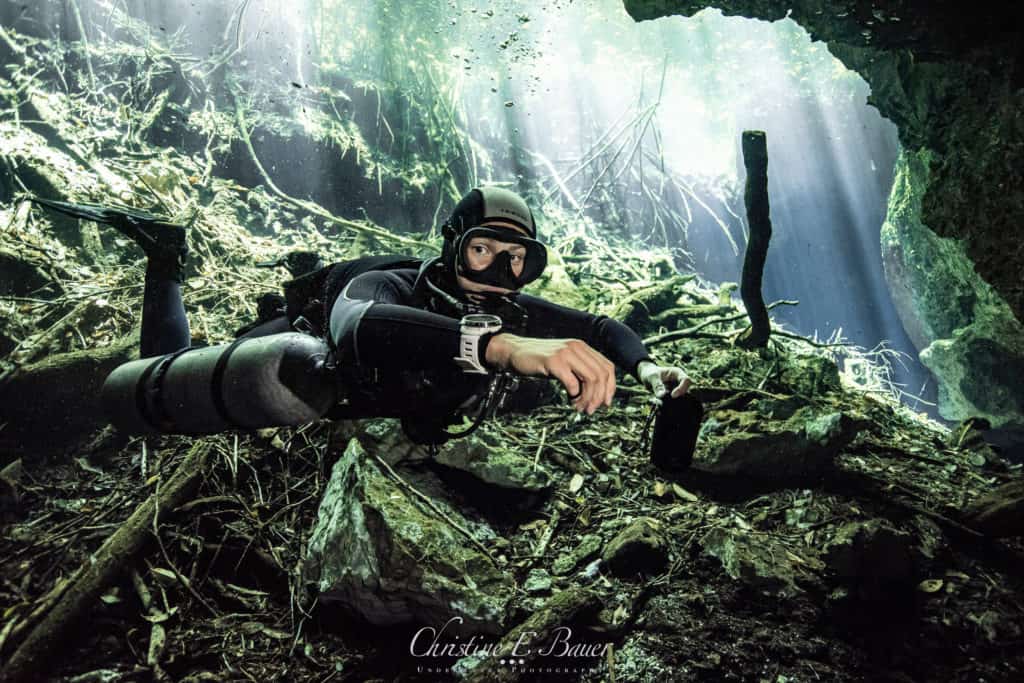 What is Sidemount Diving?
Sidemount is a SCUBA diving equipment configuration, allowing the diver to carry their tanks laterally mounted instead of on the back. This allows the diver to access the valve and first stages of their tank at any point during the dive. Another plus is being streamlined and perfectly trimmed in the water. 
Back in the day, a sidemount setup consisted of homemade harnesses and tire tubes mounted with oral inflation hoses. Fortunately, these are relegated to the course of history. (Please don't try this old method – there are much better options available today, read on!)
Often, you'll see a diver dive more than one tank in this configuration. Having two or more separate gas supplies nearly guarantees a safe dive in terms of gas redundancy. 
Technical divers mostly carry several tanks with different gas mixes for different depths to conduct their challenging dives. Often their tanks are mounted in the sidemount configuration to allow easy access and flexible handling of each tank. 
Is Sidemount Diving only for Technical Divers?  
This type of SCUBA setup originates in the technical and cave diving community. Nevertheless, it has gained a lot of popularity among sports and hobby divers in recent years. 
All around the world divers have started diving in sidemount to enjoy the benefits of it. 
Why Should I Do a Sidemount Diver Course? 
The Sidemount Diver Course gives you all the necessary knowledge and skills to carry more than one tank during your dives. 
Gas redundancy, streamlining, and flexibility are just some of the pros why divers should consider diving in sidemount. 
Especially for smaller-built divers, who look into technical or even cave-diving, sidemount may be your best bet to protect your back from the heavy carrying of tanks on your back. 
The most important part of any Sidemount diver course though, is that you will work on your buoyancy, trim, and propulsion techniques with your instructor. (The base of any good diver is an excellent buoyancy and trim!)
The flexibility of this setup allows a diver to fit through those small spaces that any backmount-diver would have given up on passing through.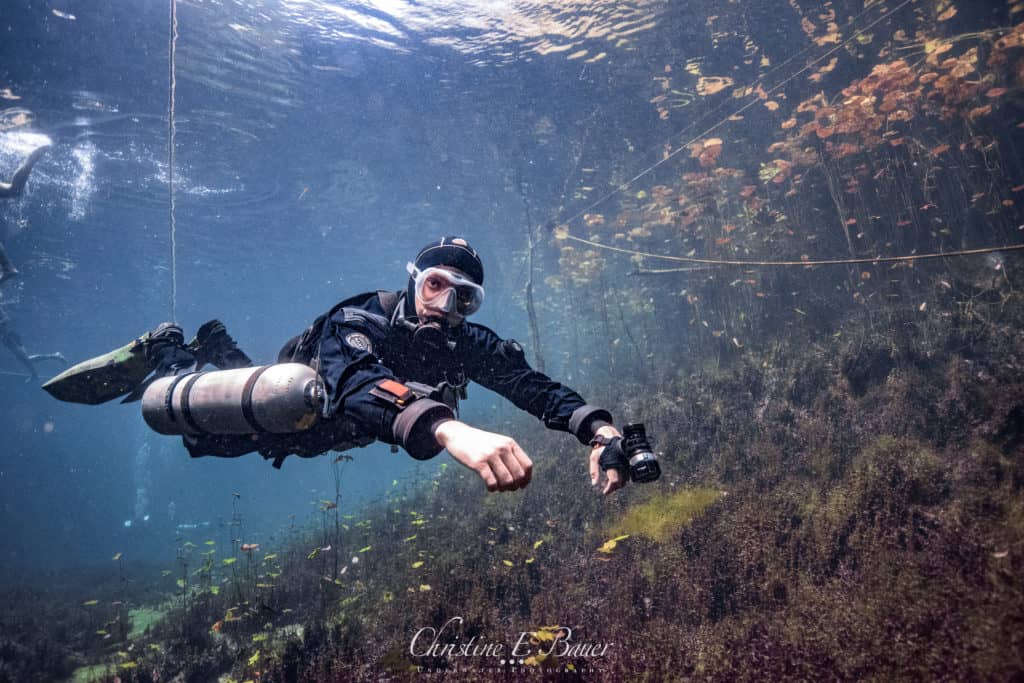 Sidemount Diving Equipment – What's Different? 
When it comes to sidemount equipment, many things are different from what you're used to in backmount diving. 
Starting from the regulator setup, harness, wing, and weight system and even the tank-ventiles are usually different when diving in Sidemount. 
Your instructor will go through all of these details, and how to adjust and prepare for a sidemount dive. As well you'll learn how to adapt if different logistics are not locally available. 
Sidemount Regulators
Instead of having only one first stage, you will have two during your training. 
One for each tank (left and right) and you will learn about the differences between both regulators. 
Harnesses & Buoyancy Compensators 
When it comes to sidemount buoyancy compensators, they certainly differ from what you're used to. Sidemount configurations typically consist of a harness and a pre-fixed and adjusted or flexible wing that is fixed to the harness upon gearing up.
The wing includes an inflator hose and dump valve to release excess air from the bladder. 
A sidemount harness usually offers you various or flexible options to clip/mount your tanks. Some come with bungee systems, some others have different configurations. 
Depending on if you dive steel or aluminum tanks you will have a buttplate, fixed or sliding d-rings to adjust the differing buoyancy of your tanks. 
Nowadays you'll find harnesses for sidemount diving of nearly every known SCUBA brand. Though some are more flexible and suited for actual sidemount diving than others. 
You might have difficulty choosing between brands, setups, and color options to customize your sidemount harness and wing. Make sure to back up your choice with your local dive shop or sidemount Instructor prior to purchase.
Weight System 
A diver wants to be optimally weighted and perfectly trimmed out to conduct each sidemount dive. Having flexible weight systems and being able to mount weight along the harness, you can fine-tune your weight positioning to dive in perfect comfortable trim. 
Depending on where you will dive, you will dive in either steel or aluminum tanks, fresh or salt water. All these factors make a difference in buoyancy and weighting. 
What Do I Learn During a Sidemount Diver Course? 
Part one of your first day at your Sidemount Diver Course will be mostly dry. 
After reading the manual and answering the knowledge reviews, your instructor will teach you about the setup.
You'll learn all the equipment pieces and how to mount them together to conduct a successful dive. 
As well, your instructor will explain to you about different setups and how they work in comparison to the one you will use during your course.  
Your professional instructor will help you with any necessary adjustments on the harness and wing, regulators, and tanks with you prior to entering the pool or confined water. This is where you will head for your first sidemount training dive.
During this part of the training, you will learn the required exercises that might remind you of your open water course – just in a whole different configuration. 
Your instructor will make final adjustments to your setup and you will practice a lot of buoyancy and trim before heading to the open water training dives. 
During your at least three open water training dives, your instructor will mostly repeat previously learned exercises with you in sidemount configuration.
You will learn about and train gas management and make sure your buoyancy and trim are on point. 
Your Instructor will teach you different propulsion techniques. Learning them can come in handy if you ever choose to continue your SCUBA adventure into the technical side of diving. 
After meeting all the necessary requirements to fulfill the course successfully, you will be certified as a PADI Sidemount Diver.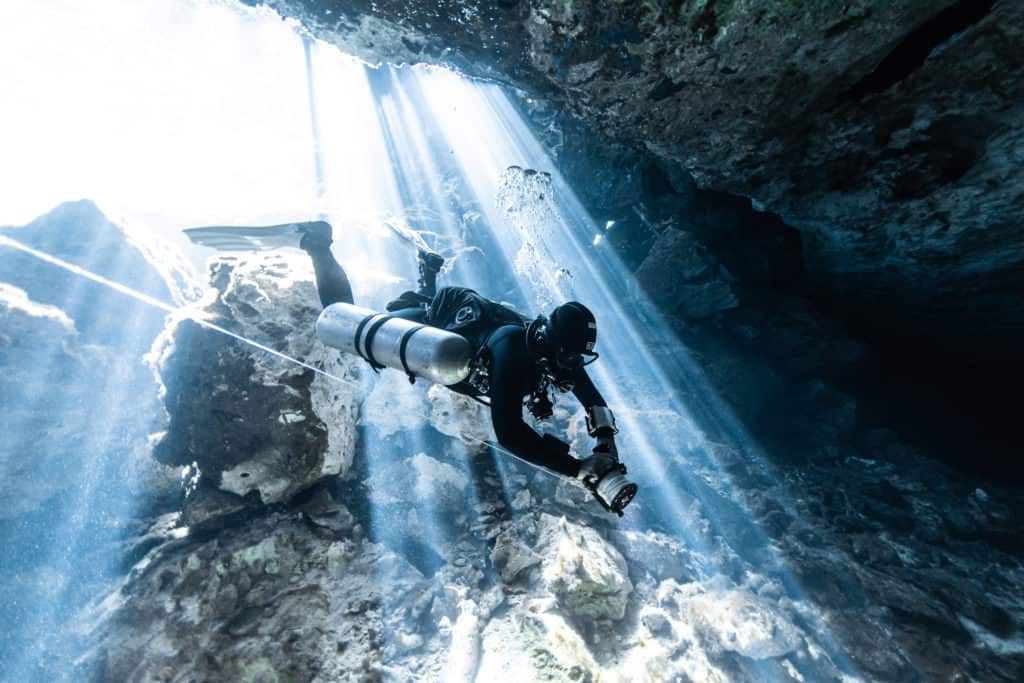 Where Can I Dive in Sidemount Configuration? 
Most modern dive operators around the world support sidemount diving in their daily diving tours. Whether you dive in the ocean, a lake, a quarry, or any other dive site, a sidemount set up is flexible enough to be used for nearly every type of dive. 
If you happen to own your own sidemount gear, you have even more freedom to choose who to dive with, as not every shop offers to rent different equipment setups, and it can become quite costly to do so if you're planning to dive multiple times. 
Sidemount Diving in Playa del Carmen and Cenotes
If you choose to dive here in Mexico, most dive shops including DivePoint will be able to support your diving in sidemount. We can either rent you the gear or just ensure you have proper cylinders with left and right valves ready. 
Very commonly you can see Cenote diving guides in this configuration, as it's a requirement to dive with sufficient redundant gas leading these tours. 
This part of the world is where many cave divers come to dive into the beautiful underwater caves leading from the local Cenotes. 
Many cave divers in one spot mean that there will typically be lots of sidemount divers too. 
Because sidemount is highly adapted for cave diving, the demand for support here is high enough that most dive operators here support, teach and dive this configuration daily. 
The Riviera Maya and Playa del Carmen are certainly hot spots for any SCUBA course, recreational or technical  – but especially sidemount and cave diving is one of the regional specialties that make divers from all over the world come to visit, learn and dive.  
Thanks for reading and we hope you enjoyed this blog about the Sidemount Diver Course!  
Divers interested in overhead environment training, such as cave or wreck diving, should also look into the Tec Sidemount Diver Course. 
Contact us for more information about certifying agencies or technical and full cave diving courses. 
If you enjoyed reading, make sure to read our other blog topics and leave us a comment or follow us on our Facebook & Instagram pages!