If you love the water, and can think of nothing more fun on your vacation than taking a dip and snorkelling, then why not go one further and try scuba diving in the Riviera Maya!
---
Why You Should Try a Discover Scuba Diving Experience
---
 
Scuba Diving is an awesome sport that's loved by a huge community of divers around the world. 
Even if you aren't a qualified diver, you can still try scuba diving on your next Riviera Maya vacation. All you need is a love of the water and the enthusiasm to give it a shot.
Even newbies can be beneath the waves with only a morning of training through a 'Discover Scuba Diving' course. 
So before you book, let me tell you 10 reasons why you should give this incredible experience a try. 
10 Reasons to Try a 'Discover Scuba Diving' Experience 
# 1 – Explore An Underwater Environment!
71% of the planet is underwater, so unless you try diving, you'll never really experience what our beautiful Earth has to offer. 
And there isn't just the ocean to explore, if you catch the diving bug (and believe me, we all do) you can explore ancient Mayan cenotes, see historic shipwrecks, and find the mysteries of lakes. 
#2 – Discover Amazing Creatures!
Many people may be aware of the gracefulness of a dolphin as it jumps and plays in the surf, or have seen the cute little clownfish (just like Nemo!) but there's so much more to the ocean. It's teeming with marine life, with reefs full of schools of colorful fish.
But there's more, incredible corals, mind-boggling anemones, and tiny shrimp too.
Until you've been down there and witnessed these creatures for yourself, you'll never know how amazing they are. 

And let's face it who's ever going to forget their experience of swimming alongside a giant whale shark, seeing bull sharks up close, or witnessing the dance of a majestic manta ray!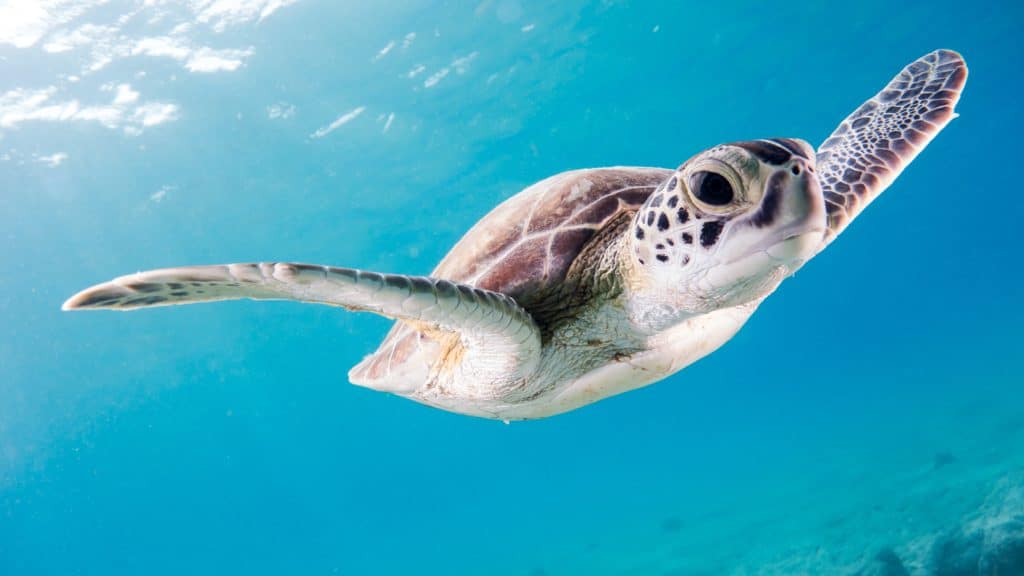 #3 – A Sport for Everyone 
Whether you classify yourself as 'sporty' or not, you can still give scuba diving a go. There is no impact on joints, making it easy for all, with many divers being way into their 80s and still loving the sport. 
And it's not a competitive sport either, you're all on the same team, making it even more fun.
#4 – It's Incredibly Peaceful
In today's modern world of technology, it can be difficult to eventually switch off. Scuba diving offers the best way to take a break from the busy life on land – there's no checking emails or phone messages when you're under the water!
But it's not just the break from electronic gadgets, the diving itself is incredibly therapeutic. With nothing but the bubbles from your regulator to be heard, and the floating feeling of weightlessness, many divers consider a dive more relaxing than a meditation session! 
And the beautiful reefs of Playa del Carmen give you a gorgeous backdrop to enjoy while you do it.
#5 – Scuba Diving Keeps You Fit and Healthy
Did you know that scuba diving can burn as many calories per hour as running? Without the same levels of exertion!
You can use your body to swim and tone, and you'll be so busy admiring the marine life and reefs along the way, you won't even think of it as exercise!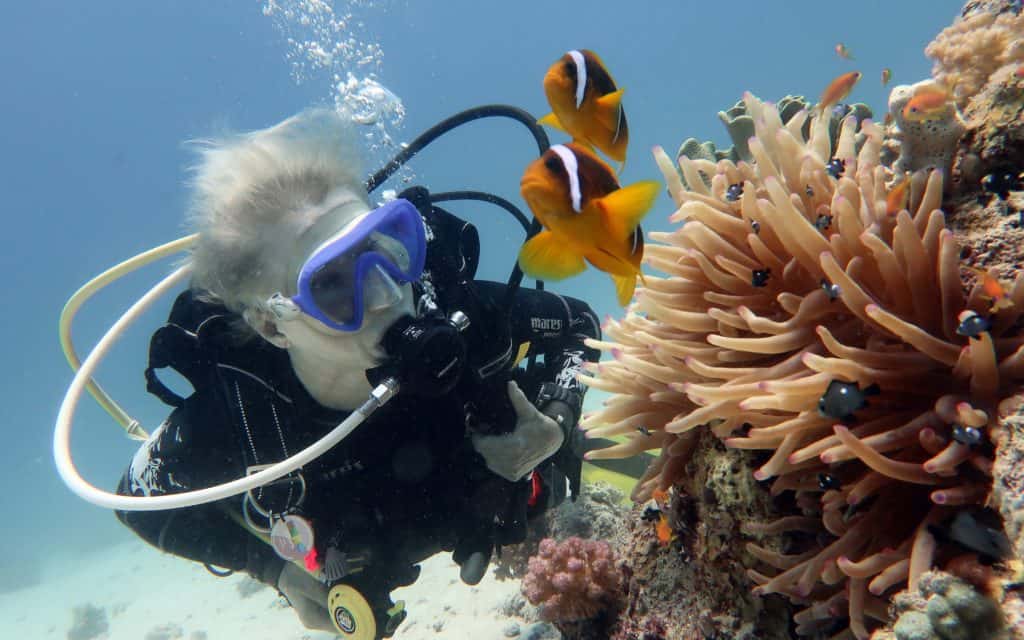 #6 – Expand Your Knowledge and Skills
As well as keeping you physically healthy, scuba diving also can keep your mind healthy. There are always new species to learn about.
And becoming a scuba diver doesn't just involve jumping into the water with all the right gear. You have to learn about how it all works and why it is needed.
You can enjoy problem-solving challenges, and advance your skills. You never stop learning.
#7 – Join a Community
Scuba divers worldwide share a Universal language, making the bond between divers incredibly strong. 
From all over the world you can meet strangers that become lifelong friends as you become dive buddies and rejoice in sharing anecdotes of your favorite dives.
# 8 – Become a World Traveler
Once you are scuba qualified, your license allows you to go on dive trips all over the world. You'll be hunting out more adventurous places to visit and explore not only the land but beneath the sea too. 
Bucket-list dive destinations include the Galapagos, and the reefs of the waters surrounding Indonesia, but here in the Riviera Maya, we are lucky to be home to a great number of stunning dive sites too. 
#9 – Overcome Your Fears 
Many people state fear stops them from trying diving and signing up for your full open-water dive course can be intimidating and expensive. A Discover Scuba Diving day is a way to experience the best elements of scuba diving to find out if you truly love it before committing to further scuba studies. 
It's done alongside an experienced instructor in a very small group environment. 
Once people have tried it, they realize the water isn't a scary place, and are eager to discover more!
#10 – It's So Much FUN!
Ask any diver, and they will all agree, that the best thing about diving is that it's super fun!
It takes the excitement of being adventurous, and combines the fun of meeting new people, and the delight of achieving challenges! 
What is a Discover Scuba Diving Course?
A Discover Scuba Diving course is an introduction to the underwater world. It's a one-day experience that gives you basic training, before taking you to the ocean and allowing you to experience the majesty of the ocean for the first time.
You'll be in an incredibly small group, or often one-to-one with an instructor, who takes you from the training pool, where you learn some basic skills and practice breathing for the first time underwater.   
Once you feel confident, you're taken to the ocean where you get to experience 2 dives in the turquoise waters of the Caribbean. You'll see schools of fish, beautiful reefs, and curious crustaceans; all supported and guided by your instructor, who'll be at your side the entire time. 
A Discover Suba Diving day is often what gives divers the bug, and many leave the boat planning to complete their Open Water Course soon after!
To book your Discover Scuba Diving experience, check out our booking page here.
We hope you liked this blog post on why you should try scuba diving in the Riviera Maya.

If you enjoyed reading, make sure to read our other blog topics, leave us a comment, or follow us on our Facebook & Instagram pages!