If you're an advanced OW diver looking for a special Mexican cenote diving experience, check out these exciting cenote options to try!
---
3 Advanced Mexico Cenote Diving Sites to Try
---
Cenotes are very special places to enjoy diving in, and when you're taking a visit to this part of the world, as a diver they really should be on your dive list for a completely different day.
Nestled in the jungle, these freshwater cavern systems are unique to this part of the world, and require a large truck, rather than the usual boat to access them! (So, no nasty seasickness or currents to worry about!)
In this blog we're going to explain to you more about the advanced, level 3, cenotes. These ones have been categorized as a little more difficult and require the advanced open water certification level in order to dive in them. (Check out the Level 1, 'easier' cenotes in this blog post!)
It's also different that cenotes are overhead environments, so you need to be more experienced as a diver as there is not the same ease to ascend immediately in case of any issues underwater.
But if you're up for the challenge and privileged to see nature at its truly most beautiful, here are our favorite advanced cenote dives.  (We also have another blog coming soon on the best Level 2 cenotes!)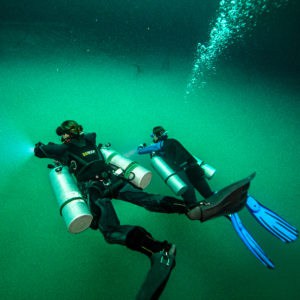 Level 3 Mexican Cenote Diving Locations
El Pit
Located in the Dos Ojos Park close to Tulum, cenote El Pit is a really memorable dive site. As you enter the jungle area, you see the cenote entrance as a smaller hole in the ground, with a steep stairway to climb down to the water's surface level.
But below the water is where the magic truly occurs… this cenote is, as the name suggests, a large pit, that drops down to depths of over 40 meters.
As you free descend through the crystal-clear waters, you'll be mesmerized by the rockfalls within the cavern. At around 26 meters, you'll experience a strange halocline layer, where the once-perfect visibility will momentarily go fuzzy, as the fresh water and saltwater layers mix.
Even further below you, you'll be able to see a cloud of hydrogen sulfide, with eerie trees that pop through the misty layer.
During this dive, you'll start deep, and weave around the rockfall. Keep your eyes peeled for archeological remains, such as animal bones and even pottery pieces in this cenote – proof of Mayan history from when these caverns were once dry.
However, the most magical part of El Pit cenote truly has to be the light 'show'. If you visit in the morning (most dive trips here will be the first dive of the day due to its depth) the light beams that cut through the water are simply spectacular! This is an advanced-level dive that needs to be on your scuba bucket list!
Cenote Angelita
Cenote Angelita is a bit of a longer drive for a day trip from Playa del Carmen, but the eerie ambiance of this cenote makes it a favorite of many divers.
Angelita, translates from Spanish, as 'little angel' and is memorable for being a very different dive to most other cenotes.
Some compare this deep dive site to a spooky forest, due to the fallen trees that poke through the Sulphur cloud that lines the cavern at 30 meters.
Below the cloud, the water is now salty, and not the freshwater usually associated with Mexican cenote diving. The ambiance also turns a little creepier, as there is less light, and more fallen trees and rocks.
This cenote is also popular with technical divers, as it gives them the opportunity to dive even deeper too.
This cenote has a wide, open entrance pool, and is popular with free divers who also like to come and train in its deep clear waters.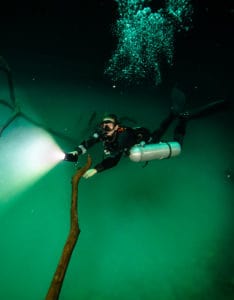 Cenote Nicte Ha
This cenote is also part of a larger, connected underground river system, and is found in Dos Ojos Park. Also popular with snorkelers, this beautiful cenote is shallow and surrounded by enchanting flora and jungle plants.
Most stunning to see is the area of lily pads that float across the water's surface.
The cavern for diving itself is actually rather shallow, with a maximum depth for the entire dive of around 8 meters, but there are some tight spots to navigate through, requiring precision buoyancy control and experience in more open cenotes before trying this one.
You can also feel a slight current in the flowing river in some areas. But the most special part of this Mexican cenote diving day, for many divers, is the views into the open water lily garden from the dark cavern edges. The light shines through in an ethereal way that needs to be witnessed with your own eyes!
Other Level Cenotes
In this article, we have discussed some of the more advanced cenote dives in the Riviera Maya. The levels help reputable scuba companies to recognize which cenotes are appropriate to take divers, depending on their level of experience. (Check out our blog about the best Level 1 cenotes for more novice divers!)
Level 1: Dos Ojos 'Barbie line', Cenote Eden, Chikin-ha, Carwash and Casa Cenote
Level 2: Dos Ojos 'Bat Cave', Tajma ha
Level 3: Angelita, Maravilla, El Pit, Nicte-Ha, and Orquídea
Level 4: Zapote, Dreamgate
Beyond level 4: Tak Bi Lum, Tak bi ha
Try Advanced Mexican Cenote Diving with DivePoint
To dive in these cenotes, you need your advanced open water certification, as the depth requirements and buoyancy needs go beyond what is permitted with an open water diver license.
At DivePoint, we also care deeply about diver safety and the integrity of these special million-year-old locations, so we also request that you try a Level 1 cenote dive day, before we will take you to these more difficult dive sites.
Cenotes are filled with stalactites and stalagmites that have taken many thousands of years to form, and once broken, cannot be fixed to the wonder and natural beauty they once had. Therefore, we need to ensure that divers are able to control their buoyancy and dive skills enough to not damage these special places.
For more information on the Level 1 cenotes, suitable for open water divers, read this blog.
At DivePoint, we can also combine Mexican cenote diving with ocean diving to create your ultimate scuba package.
Contact us for more information.
Thanks for reading and we hope you enjoyed this blog about the Best Level 2 Cenote Diving Mexico!  
If you enjoyed reading, make sure to read our other blog topics, leave us a comment, or follow us on our Facebook & Instagram pages!