With some of the most beautiful and diverse dive sites in the world, Cozumel is a must-visit destination for any diver.
Whether you're a seasoned diver or just starting out, Cozumel has something for everyone. From shallow coral reefs perfect for beginners to deep walls and swim-throughs for more advanced divers, you can have it all!
But don't just take our word for it. Read on to find out for yourself why Cozumel is considered one of the top dive destinations in the world, and find out more about its beautiful dive sites.
Cozumel Diving Sites
Paraiso / Paradise Reef
Depth: 10-15 meters (30-45ft)
Dive time: 45-55 mins
Visibility: usually 30+ meters
The Paraiso Reef is the first reef located in the protected marine park of Cozumel. It has a depth that varies from 10-16 meters and is home to a variety of coral colonies, sponges, and marine life. Divers need to be Open Water certified and confident in the water to enjoy this dive.
The reef is a habitat for various species of fish, lobsters, spotted moray eels, trumpetfish, and sergeant major fish. Lucky divers may even spot a splendid toadfish, an endemic species of toadfish only found around Cozumel Island.
The usual dive time at this site is between 45 and 55 minutes, depending on the current.
Chankanaab Shallow
Depth: 11-23meters (35-70ft)
Dive time: 40-55 mins
Visibility: usually 30+ meters
Chankanaab shallow reef is located in front of Chankanaab Park and offers a perfect playground for divers. The shallow part of the reef is around 11-15 meters and offers sightings of king crabs, spotted moray eels, and lobsters hiding under rocks, with the occasional appearance of a turtle.
This is a second-dive site due to its shallow depth and is suitable for both beginners and more advanced divers.
Chankanaab Bolones Deep
Depth: 18-23 meters (60-70 ft)
Dive time: 35-45 mins
Visibility: usually 30+ meters
The Chankanaab Reef has a deeper part known as Chankanaab Bolones which runs parallel to the shallow reef at a depth of 18-23 meters, near the famous underwater canyon-wall off Cozumel's coast.
This site is home to barracudas, triggerfish, southern stingrays, and occasional spotted eagle rays. Divers can swim along coral formations and spot groupers, queen angelfish, and various kinds of moray eels.
The clear visibility, mild currents, and colorful marine life make it a favorite spot for underwater photographers. It is a bucket-list dive that can be combined with other nearby shallow reefs or the C-53 wreck.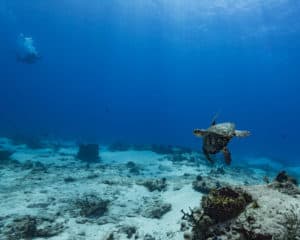 C-53 Wreck
Depth: 25 meters (80ft)
Dive time: 35-45 mins
Visibility: 30+ meters usually
The C-53 Felipe Xicoténantl wreck is a famous diving site in Cozumel and was intentionally sunk in 2000 after being part of the Mexican Navy fleet. It is located between Chankanaab and Tormentos Reef at a depth of 25 meters in Chankanaab Bay.
The wreck is penetrable and has large openings and big spaces, allowing divers to swim through the engine-room, officer cabin, and crew showers. The wreck is home to various marine species, including barracudas, stingrays, and schools of glassy sweepers and sardines.
To ensure safety and accessibility for years to come, the Marine-Park has set rules for divers wishing to enter the C-53 wreck, such as carrying at least one dive light, not exceeding a 4:1 diver to guide ratio during penetration dives, and having advanced buoyancy control.
Tormentos
Depth: 15 meters (50ft)
Dive time: 45-55 mins
Visibility: 20-30 meters
Tormentos Reef is a dive site located just south of C-53 Wreck, and the dive typically starts on the southern point of the reef at around 18 meters deep. Divers should be at least Open Water certified with some dive experience and need a knowledgeable guide. The northern part of the reef is slightly deeper, and divers need to be aware of their time and depth limits.
The reef features beautiful coral overhangs, schools of fish such as triggerfish and grunts, Splendid Toadfish, moray eels, and various crustaceans hiding in the crevices. There are also swim-through formations where king crabs and moray eels may be spotted.
Macro life photographers will find an abundance of tiny marine creatures such as pike blennies, yellow head jawfish, pipe horses, and Christmas tree worms. Barracudas and Queen Angelfish can be seen swimming in the sandy areas outside the reef. Beyond the second reef barrier, the ground drops off into the deep.
Yucab
Depth: 13-18 meters (40-60ft)
Dive time: 45-55 mins
Visibility: 25-30+ meters
Yucab Reef is a dive spot located between Punta Tunich and Tormentos, with a depth of 13-18 meters. Divers can reach the reef by crossing a field of turtle grass or by boat.
The south part of this Cozumel reef is where divers start their descent, and they will be taken northwards along beautiful coral and sponge formations.
The reef is home to spiny lobsters protected by the Cozumel Marine Park, found in an almost separated coral-patch at around 13 meters depth. At 15-18 meters depth, there is a much denser coral reef with a great abundance of marine-life, including filefish, queen triggerfish, peacock flounders, and smooth trunkfish. Off the reef, barracudas, green turtles, and southern stingrays can be found. Scorpionfish and spotted moray eels can be observed under crevices on the outermost edge of the reef.
The reef is a popular spot for photographers, as there is plenty of space to explore and capture cool critters.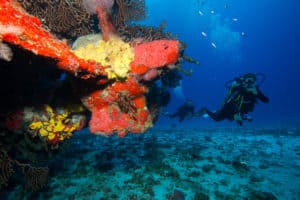 Punta Tunich
Depth: 18-30 meters (60-100ft)
Dive time: 45-55 mins
Visibility: 30+ meters
This dive site is located parallel to Yucab Reef and features a deep underwater canyon-wall. The dive starts at around 18 meters and experienced divers can expect to see a variety of marine life, including nurse-sharks, eagle rays, barracudas, and seahorses.
Divers must be careful of downstream currents and should have excellent buoyancy control. The most vibrant coral growth and macro life can be found between 18 and 23 meters, and the dive usually ends in the sandy shallower part of the site.
This is an advanced dive due to the strong currents and requirement for excellent buoyancy control.
San Francisco Wall
Depth: 14-35+ meters (45-115ft)
Dive time: 30-45 mins
Visibility: 30+ meters 
The San Francisco Wall is a famous dive site off Cozumel with a depth range of 14-35+ meters. Due to strong currents and maximum depth, this site is advanced and only diveable from a boat.
Divers can observe spotted eagle rays, barracudas, turtles, nurse sharks, and even black tip reef sharks. The reef plateau has a coral ridge with crevices and overhangs, while a sandy patch has sponges and coral inhabited by damsel fish, blue chromis, and schools of grunts.
The site also features a shallower plateau with separate coral colonies and a big green moray eel.
Santa Rosa Wall
Depth: 23-35+ meters (75-115ft)
Dive time: 30-45 mins
Visibility: 30+ meters 
Santa Rosa Wall is undoubtedly one of the most spectacular dive sites of Cozumel. This dive site offers a diverse range of marine life and unique underwater topography that make it a favorite among experienced divers.
The impressive coral formations that have formed into towering columns and swim-throughs are home to a wide variety of marine species. From small fish to sharks, divers can encounter an array of marine life, including lobsters, black and Nassau groupers, great barracudas, nurse sharks, and queen angelfish.
The sensation of reaching the edge of the almost vertical drop-off gives divers a sense of flying through a different world, and the unique landscape is truly awe-inspiring.
However, it's important to note that due to the unpredictable currents that can occur seasonally and the depth of this dive, only experienced divers should attempt to dive at Santa Rosa Wall. This dive site is not suitable for novice divers, and proper training and equipment are necessary to ensure a safe and enjoyable dive.
Paso del Cedrál
Depth: 14-18 meters (45-60ft)
Dive time: 45-60 mins
Visibility: 25+ meters
Paso del Cedrál reef is located close to the southern end of Santa Rosa Wall, at 14-18 meters in depth. It's a great dive site for all levels of divers and offers abundant marine life and impressive coral structures.
The numerous overhangs in this reef offer a home to critters and reef fish such as spotted drum fish and blue flecked cleaner-shrimps. Large groupers, moray eels, and nurse sharks are common sights, making it a photographer's paradise. Other marine life includes turtles, spiny lobsters, queen angelfish, and triggerfish.
Strong currents can be experienced, and experienced divers can choose to drift along the colorful coral garden at about 20 meters.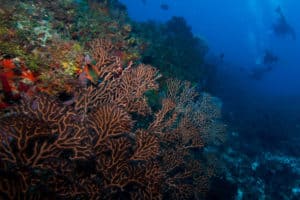 Palancar
Depth: 14-35  meters (45-115ft)
Dive time: 35-60 mins
Visibility: 30+ meters
Palancar Reefs are a world-renowned diving spot with four separate sites: Palancar Gardens, Palancar Horseshoe, Palancar Caves, and Palancar Bricks.
Palancar Gardens, the easiest of the dives, is known for its unique coral formations and abundant marine life.
Palancar Horseshoe features impressive coral structures and swim-throughs, while Palancar Caves has dense coral formations and caverns for experienced divers.
Palancar Bricks has tall pinnacles of coral formations with sandy patches and moderate currents, making it a rewarding dive for any level.
Colombia Wall
Depth: 25-33 meters (80-110ft)
Dive time: 35-45 mins
Visibility: 30+ meters
Columbia is a popular wall dive, located near Colombia Lagoon. This advanced dive site has a maximum depth of 30+ meters with moderate to strong currents, making it only enjoyable for experienced divers with excellent buoyancy control.
Divers can explore swim-throughs and lookout for pelagic life and turtles passing by. The dive is decorated with distinctive coral formations, pinnacle-structures, and an abundance of marine-life such as barracudas, hogfish, triggerfish, angelfish, groupers, grunts, and blue tangs.
The dive ends with a slow ascent through the coral formations, with a final depth of approximately 13 meters, where divers can enjoy the view and watch out for stingrays feeding over sand patches.
Tikila
Depth: 2-14 Meters (6-45ft)
Dive time: 45-60 mins
Visibility: 10-30+ meters 
Tikila Beach Bar in Cozumel is a popular starting point for shore diving and snorkeling, equipped with facilities such as showers and lockers. Divers can rent tanks and weights for a small fee. The reef is shallow and suitable for beginners, with slow currents and good visibility.
The shore dive starts at around 2 meters and goes out to deeper waters where divers can encounter more coral and a small wall at approximately 7-10 meters depth.
The beach bar offers much needed, post-dive refreshments and Wi-Fi, and the location outside of the main town is peaceful and surrounded by local shops and accommodations.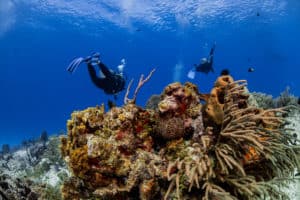 Explore the Dive Sites in Cozumel, with DivePoint Mexico
But don't just take our word for it. Let our experienced and knowledgeable instructors guide you through the crystal-clear waters of Cozumel, showing you the amazing marine life and stunning coral formations that make this destination so special.
Why not combine your diving in Cozumel, with some dives in Playa del Carmen, and in the Cenotes for the ultimate scuba diving package!
Contact us at DivePoint today to set up your next dive trip to these Cozumel dive sites!
We hope you liked this blog post on Cozumel Diving Sites.
What are your favorite reefs in Cozumel? 
If you enjoyed reading, make sure to read our other blog topics, leave us a comment, or follow us on our Facebook & Instagram pages!