For any marine life lover, popping into the great blue ocean to see some fish is a wonderful experience. But – is there so much of a difference between snorkeling vs scuba diving? In this blog, we'll explain all you need to know
---
Scuba Diving And Snorkeling – What is the Difference?
---
You may know you are a bit of a water baby and have enjoyed snorkeling on vacations in the past. Many people think, well I can snorkel, I don't need to scuba dive as it's just 'the same' right? Wrong!
Although both snorkeling and scuba diving will have you in the water looking for cute fish, there are actually quite a few differences between these activities. And, just because you had a bad experience with one of them, it doesn't automatically mean your will hate the other! 
(I LOVE scuba but am NOT a huge fan of snorkeling!)
Read on and we'll compare these two hobbies, and find out how you can love both!
1. Air Supply 
Generally, the major difference between snorkeling vs scuba diving is your air supply. When you snorkel, you are at the top of the water column, which allows you to breathe through the snorkel as you float on the surface. In scuba, you have a tank of compressed air (or nitrox) to breathe from as you dive.
For many people who have tried snorkeling (especially with cheaper quality equipment), you may have experienced that horrid fleeting moment where a wave comes over and splashes the inside of the snorkel, leaving your mouth filled with salty water, rather than the air you were expecting! If this is you, you are not alone! In my younger days, this happened to me, causing a panic attack that left my father needing to save me from almost drowning!
The good thing is that since those times snorkels have evolved and if you invest in a better-quality snorkel with a splash guard and purge valve this likely won't affect you so badly. 
As for scuba diving, you breathe from your regulator, and aside from extremely rare malfunctions, as long as the mouthpiece is in your mouth, you should have plenty of lovely air to breathe. And, if it ever did malfunction, you have a spare octopus or a buddy nearby to breathe with.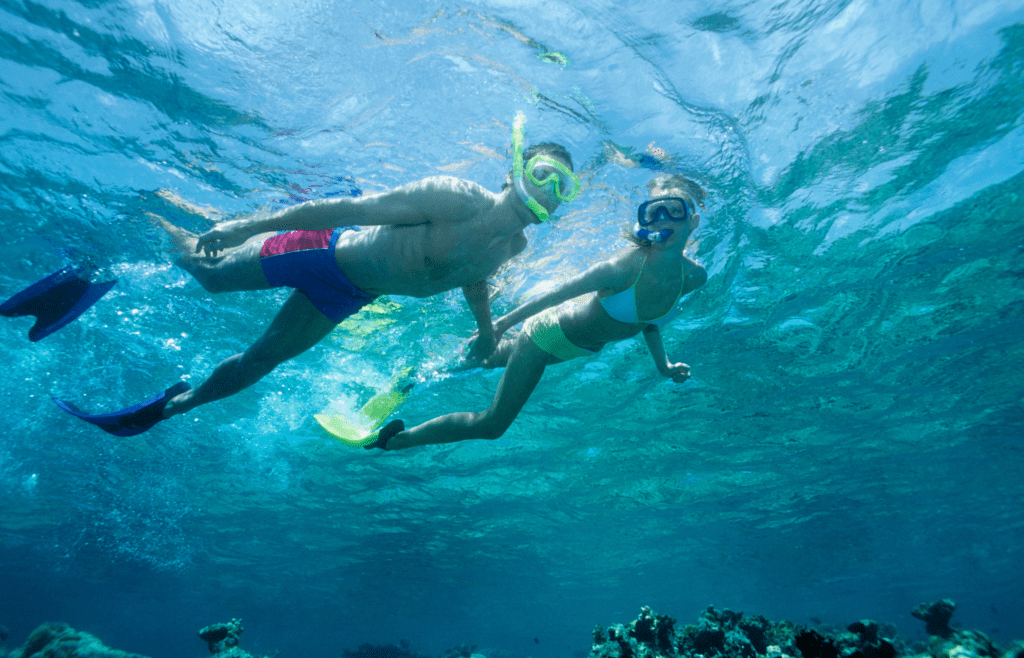 2. Depth 
Another difference between snorkeling vs scuba diving is your body position in the water column.  For snorkelers, you remain on the surface (aside from any diving dips for a closer look!) 
Recreational scuba divers can be found as deep as 30m beneath the surface. (With an advanced qualification)
Unless you find a particularly shallow reef to see as a snorkeler, it can be tricky to see marine life close up without scuba diving. 
3. Difficulty
For snorkeling, you don't need to have any special certification. Snorkeling just requires a basic swimming ability, and even for most guided snorkeling tours, you are given a life vest to wear, which means even if you're not a strong swimmer, you can still enjoy seeing the underwater critters. 
Scuba diving, on the other hand, does require a certification in order to dive safely. The first level is called the open water diver, this is usually completed as a three-day course and allows you to dive to 18 meters depth all over the world. There are many different dive agencies to choose your certification from with PADI and SSI being two of the better-known companies.
As part of the certification, you need to be able to complete some specialist skills which do require being able to swim for a predetermined distance and tread water. Although people who aren't as strong as swimming can still be great scuba divers, the swimming technique beneath the water is quite different from being on the surface.
It's usually found that people who are quite comfortable with water pick up the skills for scuba diving more quickly.
As well as the physical difficulty of scuba diving there is also a more mental side to it too with a lot of dive theory to understand. As a beginner, the theory behind diving can be a little complicated – along with learning how to arrange and pack up your equipment for each dive. 
There are also a whole bunch of dive acronyms to learn too. However, once you get in the swing of things these will be second nature to you like many other divers.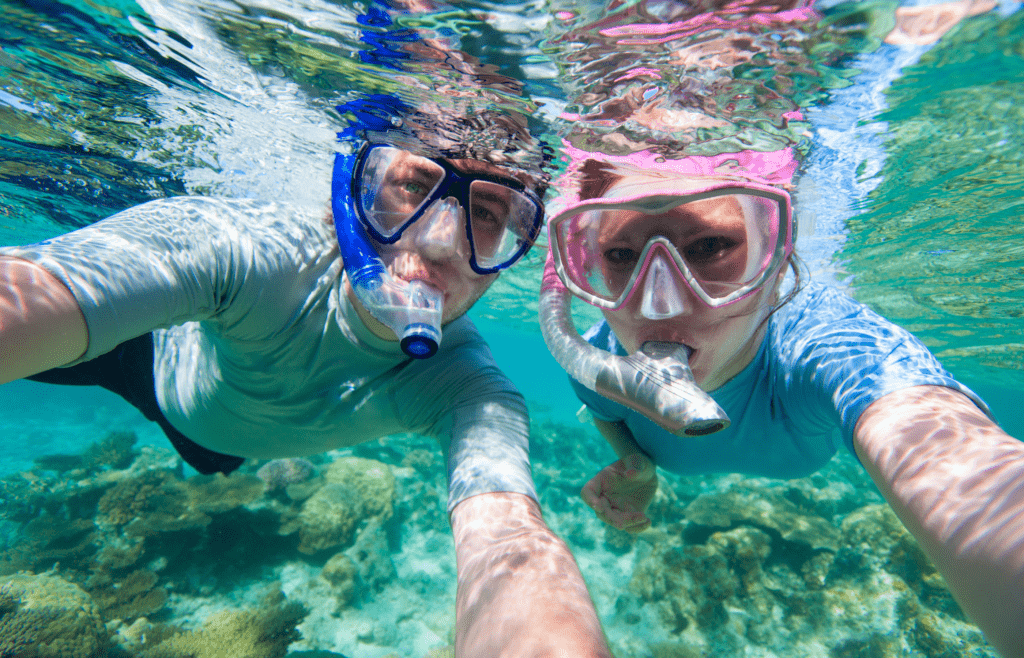 4. Safety
It's widely believed that snorkeling is much safer than scuba diving, this is because you are on the surface with access to air at all times as a snorkeler. However, if correctly trained and if you follow your dive plan carefully, scuba diving is also an extremely safe sport.
As with most sports, you do need to ensure you have a good level of fitness before scuba diving and take any safety precautions with the weather, climate, and sea conditions for each dive, but this applies to snorkeling as well.
5. Equipment
As a snorkeler, you only really need three pieces of basic equipment: your mask, your fins, and your snorkel. Depending on where you are snorkeling you may also wish to have a rash guard to protect you from the harsh sun or a wet suit to keep you a little bit warmer.
For scuba diving, a lot more equipment is needed. The basic scuba setup requires a BCD, your regulator, fins, mask, and dive computer. Along with this, there are many other scuba accessories you can use to make dives more fun such as underwater photography equipment, flashlights, and slates to communicate with buddies.
Scuba diving is also more likely to need a wet suit, but the thickness of your wet suit will depend on where you will be doing most of your diving.
If you are planning a vacation that would include snorkeling vs scuba diving, being a snorkeler is obviously much easier in terms of packing and bringing your equipment. However, don't be deterred from scuba for that reason, as most reputable scuba establishments have equipment for you to rent during your dive days. 
6. Cost
Divers will tell you that scuba is not an inexpensive hobby. Aside from the equipment prices, which can be upwards of $1500 for a beginner set, you also need to factor in maintenance fees to keep that equipment in tip-top condition. 
Scuba also requires the cost of certification, to begin with. This along with continuing education can add up, but specialty courses do make for a better, safer diver.
Snorkeling however just requires the cost of the equipment which tends to be a lot cheaper as snorkeling fins are shorter and a snorkel mask does not need to be as high quality as a mask for scuba diving.
But as always you can head into the ocean feel free to snorkel if you feel confident. For scuba diving, you can go with a buddy once you are certified but it is always recommended to take a guided dive if you are in an area you are unfamiliar with.
When it comes to actual guided snorkeling vs scuba diving, the prices can actually be pretty similar depending on where in the world you are. 
So, which is Better Snorkeling Vs Scuba Diving?
This is a tricky one to answer… and it will come down to your own personal preference. 
For ease of being able to get into the water on your own time and with minimal equipment, snorkeling is the way to go.
But, if you're after a close-up and more intimate experience with the sea, or want to explore taking underwater photos, then you should really give scuba diving a try!
How To Get Started with Scuba Diving
So, if all of this information has made you curious to get scuba diving, why not give it a try?
If you are not quite ready to dip your toes into the full Open Water certification course, you can always try a Discover Scuba Dive first which will give you a one-day try dive experience to see how snorkeling vs scuba diving really compares.
At DivePoint we always use caring and great instructors that can help you with the transition from snorkeling to scuba diving in no time. Contact us today to get started.
We hope you liked this blog post on snorkeling vs scuba diving.
If you enjoyed reading, make sure to read our other blog topics, leave us a comment, or follow us on our Facebook & Instagram pages!