Embarking on a scuba diving adventure in Playa del Carmen can be an exhilarating experience, surrounded by the beauty of the ocean's depths and its incredible marine life.
Yet, amid the excitement, one crucial factor demands careful consideration – the choice of a dive center. To ensure an unforgettable and safe underwater journey, it's essential to select a dive shop with impeccable credentials, experienced instructors, and top-notch equipment.
In this useful guide, we'll delve into ten essential tips that will equip you with the knowledge needed to identify and choose the best dive shop in Playa del Carmen. We've also included some questions you can ask a potential dive shop before booking with them too!
10 Ways to Choose the Best Dive Shops, Playa del Carmen
1. Research and Reviews
The journey to finding the perfect dive shop begins with research. Start by scouring online reviews and recommendations from fellow divers. Platforms like TripAdvisor and scuba diving groups on Facebook can offer valuable insights into the experiences of others who have explored Playa del Carmen's underwater wonders.
Look for consistent patterns of positive feedback and high ratings, as this can be an indicator of a reputable dive shop.
2. Prioritize Safety Over Price
Although budget-friendly deals can be tempting, remember that your safety should always be paramount. Dive shops offering exceptionally low prices may be compromising on equipment maintenance or instructor qualifications to cut costs.
It's worth investing in your safety and peace of mind by choosing a dive center that places a strong emphasis on safety protocols and ensures their gear is well-maintained.
3. Ask Questions
Engage with the dive center staff and don't hesitate to ask questions. Inquiring about their equipment, safety measures, and certifications can provide valuable insights into the dive center's operations. (Later in this post we have a heap of questions you can ask your potential dive shop!)
Knowledgeable and responsive staff members who are eager to address your concerns are indicative of a reputable dive shop that prioritizes customer satisfaction and safety.
4. Instructor Qualifications
The quality of your diving experience is often influenced by the expertise of the instructors. It is well within your right to inquire about the qualifications of the dive instructors at the dive shop. Are they certified professionals? Are they instructors or divemasters? Do they possess significant diving experience?
You may also prefer to be instructed by a particular gendered instructor, or by an instructor who speaks your language! At DivePoint we can arrange for instructors in a range of languages, including: English, Spanish, German, French, Portuguese – and many others!
Well-trained staff not only enhance your diving experience but also ensure your safety throughout your underwater exploration.
5. Equipment Inspection
You should always inspect rental equipment thoroughly before diving with any dive shop.
Well-maintained, clean, and functioning equipment is essential for a safe and enjoyable dive.
Pay close attention to details such as the condition of masks, regulators, BCDs, and other gear. If you notice signs of wear and tear, it's advisable to explore other options.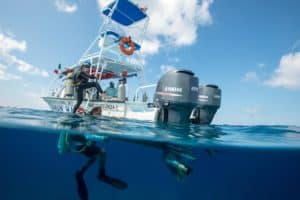 6. Dive Boat Standards
Boat diving is the norm for scuba diving in Playa del Carmen, so you'll want to know about the dive shop's boat facilities. Many of the shops in the area share their boats, so having different dive teams on one boat is common.
Almost all the boats in the area are pretty small too – with the maximum being around 14 divers.
7. Group Size
In Playa del Carmen, you can find a whole range of dive shops. Some are large resort-based ones, and others, like DivePoint are boutique and offer a truly personalized service. With us, you are likely to be allocated a personal instructor for your dive group, and with groups of 4 or more divers, we try to add a divemaster for extra support and peace of mind.
Smaller groups for diving often provide a more personalized and comfortable diving experience. You don't need to worry about losing your guide, or being one of many on a huge 'cattle boat'.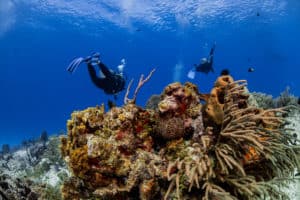 8. Dive Sites Offered
The allure of Playa del Carmen lies in its diverse and captivating dive sites. Before finalizing your choice of dive shop, ensure that it offers access to the dive sites you're eager to explore.
Whether you're interested in boat dives, Cozumel diving, or even cenote dives, choose a dive center that aligns with your preferences and desired experiences.
9. Schedule Flexibility
As you plan your diving adventure, take the dive shop's schedule into consideration. Whether you're an early riser who prefers morning dives or a traveler who leans towards afternoon exploration, verify that the dive shop has available slots that align with your plans.
Almost all of the dive shops offer a similar pattern of morning or afternoon dive times, with them mostly offering a 2-tank dive per session.
10. Trust Your Instincts
Above all, trust your gut. If something feels amiss or raises concerns, don't hesitate to explore other dive shop options.
Your comfort, confidence, and overall satisfaction are essential for a successful diving adventure. Listen to your inner voice and choose a dive shop that aligns with your values and priorities.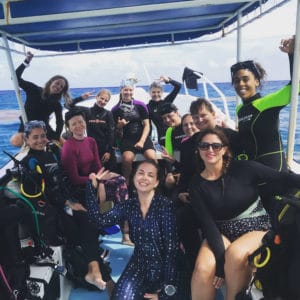 Questions You Can Ask Your Potential Playa Del Carmen Dive Shop
Here's a list of questions you can ask a potential dive center to determine if they are a good fit for your diving experience. Also remember to check the FAQ page, as many of the answers can be found there!
Instructor and Staff
– Are your instructors certified? What qualifications do they have?
– How experienced are your dive instructors? How long have they been teaching?
– What is the student-to-instructor ratio during courses?
– Do you have multilingual instructors for international divers?
– Are your instructors familiar with the local dive sites and conditions?
Safety Measures
– What safety protocols do you have in place for diving and emergencies?
– Do you conduct thorough dive briefings before each dive?
– What is the plan in case of adverse weather conditions or unexpected emergencies?
– Do you have a first aid kit and oxygen available on-site or on the dive boat?
Equipment Quality
– How often do you service and maintain your dive equipment?
– Are the tanks regularly inspected and maintained? How about the regulators?
– Do you offer a variety of sizes for wetsuits, masks, and fins?
– Is equipment like dive computers available for rent?
Dive Sites and Options
– Which dive sites do you frequently visit? Are there different options for beginners and experienced divers?
– Are night dives or specialty dives available?
– Can I customize my dive package to include specific sites or types of dives?
Group Sizes and Personalization
– How many divers do you usually take out on each trip?
– Do you group divers by experience level?
– Do you offer private or small group dives for a more personalized experience?
Certifications and Training
– Which diving agencies are you affiliated with? (PADI, SSI, NAUI, etc.)
– Do you offer certification courses? What levels of certification do you provide?
– What is the schedule and duration for completing certification courses?
Dive Packages and Pricing
– What is included in your dive packages? (Gear rental, boat fees, guides, etc.)
– Are there any additional charges that might not be included in the initial price?
Cancellation and Refund Policy
– What is your policy for canceling a dive due to weather or unforeseen circumstances?
– What is your refund policy if I need to cancel a pre-booked dive?
– Do you offer alternatives or rescheduling if a dive is canceled?
Reviews and References
– Are there online reviews or testimonials from divers who have dived with your shop?
Environmental Practices
– Do you adhere to eco-friendly practices and responsible diving behavior?
– Do you participate in marine conservation efforts or initiatives?
Asking these questions will help you gain a comprehensive understanding of the dive shop's offerings, safety measures, equipment quality, and overall professionalism. It's important to feel comfortable and confident with your chosen dive shop to ensure a memorable and safe diving experience.
Feel Secure Choosing a Responsible Dive Shop in Playa Del Carmen
Selecting the ideal dive shop in Playa del Carmen involves a combination of thorough research, thoughtful questions, and intuitive decision-making. Safety, equipment quality, experienced instructors, positive reviews, and an alignment with your diving preferences are all key considerations.
Obviously at DivePoint, we pride ourselves on being a reputable dive center that all guests have a wonderful experience with – check out our reviews if you don't believe us!
Want to come dive with us? Contact us for your next underwater adventure!
We hope you liked this blog post on how to find the best dive shops, Playa del Carmen.
Have you ever experienced a Playa del Carmen dive?
If you enjoyed reading, make sure to read our other blog topics, leave us a comment, or follow us on our Facebook & Instagram pages!