Let us embark on a captivating aquatic journey as we dive into the spooky and incredible depths of Cenote Angelita, a hidden gem in the Yucatan Peninsula.
Just a short drive from Tulum, this cenote is a well-loved favorite of divers and free-divers for its unique features and other-worldly charm.
Discovering Cenote Angelita
Cenote Angelita, aptly named "Little Angel," welcomes divers to a unique experience. Its entrance, an open cenote, deep in the Mexican Jungle seems usual enough, but it's the stunning depth of Angelita that is its biggest attraction.
And with it, some interesting qualities — a surreal submerged river, creepy fallen branches, and distinctive hydrogen sulfide cloud, add an extra layer of intrigue to the underwater adventure.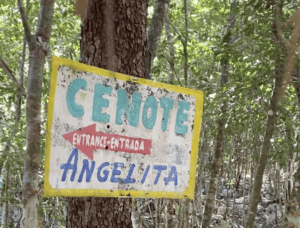 The Dive Experience
Deep Dive
Unlike other cenote dives across the Riviera Maya, when diving at Angelita Cenote, you don't actually enter any overhead environments to see the rock formations. In fact, Angelita is more of a deep open pit, and it's the depths that make it its own unique dive site that divers love!
You'll descend to around 30 meters, but this giant chasm actually goes much further down, to around 60 meters. Technical divers who are certified to a higher level may go beyond this limit.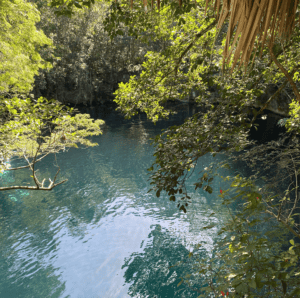 Hydrogen Sulfide Cloud
As you begin your descent, the mysterious hydrogen sulfide cloud comes into view. This phenomenon occurs around 30 meters deep, and looks like a layer of cloud, or like someone has covered the floor with a fog machine!
Through the cloud you'll see a submerged island and large fallen tree trunks and branches that reach through the cloud surface, making the whole scene reminiscent of a spooky underwater dead forest.
What is truly special for the divers is actually descending through the cloud to the darkness below. Under the cloud the water hue changes, and you'll notice it remarkably darker and much more creepy. The interplay of light and shadows creates an otherworldly spectacle that leaves a lasting impression. Many divers rank Cenote Angelita among their favorite dives due to this mesmerizing and unforgettable experience.
Some people describe the halocline effects at Cenote Angelita as an 'underwater river' as the flow of the salt water where it meets the freshwater is visible in a river-like formation.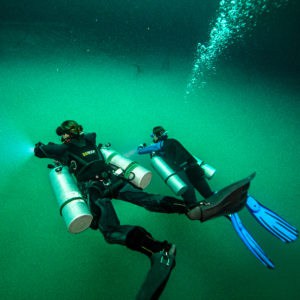 Breathtaking Rock Formations
Although the cenote's rock formations are not like the spindly needles of Dreamgate, nor have the vivid clarity of Dos Ojos, Angelita's walls still provide an interest for divers as you slowly ascend from the depths. You'll follow your guide circling around the cenote walls. Along the way, you'll be able to admire stunning speleothems and see how geological features affected the steeper walls of this cenote in different ways.
Dive Cenote Angelita Safely with DivePoint
At DivePoint, safety is our priority. Our experienced guides ensure a small group setting, allowing personalized attention to each diver. For cenotes, the maximum ratio is 4 divers to one guide.
DivePoint caters to everyone, and proudly makes Cenote diving accessible to all levels of diver. As it is so deep, you need to be an Advanced Open Water Diver to be able to dive here or have your Deep specialty course. You also need a minimum of 25 Dives, be age 15 and above, and have dived at least two other cenotes previously.
If you're looking for a better beginner cenote dive, check out our review of Dos Ojos Cenote!
A Dive Day at Angelita Cenote
When taking on a diving day with DivePoint, know that you're in for a great day. Be aware that Angelita Cenote is one of the furthest from Playa del Carmen and will be quite the drive! (around 1 hour and 20 minutes!)
DivePoint will pick you up from your accommodation or hotel ready to start the day. You will drive in a comfortable truck along the highway down past Tulum to the cenote. Once we've arrived, we will park up and head down to the cenote entrance to look at its wonderful beauty before having a thorough and careful dive briefing. Cenote diving and ocean diving are quite different so it's really important to go over the rules and guidance before any dive.
Then we will arrange our equipment before heading down to the water entrance. There are steps and a jungle path to navigate, so be careful as you walk! At the entrance of Cenote Angelita, there is a small wooden platform from which you can take your giant stride entry.
Once everybody is safely in the water you'll descend with your guide to see the spooky depths for yourself! Often you will also see free divers training at this cenote as well.
Once the dive is completed you'll go back to the truck to change your tank ready for the second dive. At DivePoint we like to pair a morning dive at Angelita with an afternoon dive at Cenote Carwash (yes! That is its actual name!)
You'll have some time to have some lunch before that second dive, which is a short drive away.
Following both dives you will pack your gear up and head back in the truck ready to be dropped back at your accommodation in Playa del Carmen. We don't know what it is about cenote driving but many divers seem to enjoy a little snooze in the truck on the way back (we don't mind – dream away!)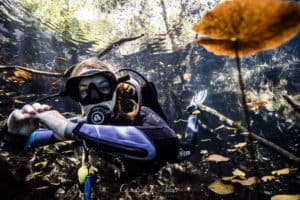 Planning Your Dive with DivePoint
Ready to explore Cenote Angelita with DivePoint? Our knowledgeable guides will lead you through this extraordinary underwater world. Combine your cenote adventure with ocean dives with our exclusive packages, ensuring a comprehensive exploration of the Riviera Maya's best dive sites.
Join DivePoint for an unforgettable dive into the wonders of Cenote Angelita.
Happy Diving!
We hope you liked this blog post on Angelita Cenote.
Have you ever experienced a cenote dive?
If you enjoyed reading, make sure to read our other blog topics, leave us a comment, or follow us on our Facebook & Instagram pages!