So, what is scuba diving? It's a hobby that allows you to breathe underwater and become a real-life merperson!
The earth's surface is made up of 71% water, and we humans have only explored a mere 5% of that! In fact, we know more about the surface of the moon than we do about the deepest points of our own planet!
Scuba diving allows humans to explore and witness first-hand the mysteries and wonders of the undersea world. We are not capable of breathing underwater by ourselves. Still, the development of scuba equipment and the advancements in scuba technologies have enabled us to have a sneak peek into the world below the waves.
What Does Scuba Stand For?
'Scuba' itself is not a random word to describe the sport, but actually, an acronym for Self-Contained Underwater Breathing Apparatus, named after the special equipment, needed to allow you to breathe underwater.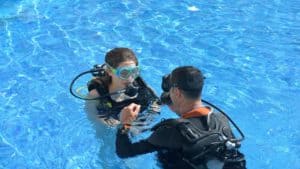 How To Get Started in Scuba Diving
To become a scuba diver, it's not just a case of donning the equipment and diving into the ocean. You need to become certified in order to do it safely. It's kind of like learning to drive – you need lessons and to pass a test before you are able to go it on your own!
Actually, learning how to scuba dive is pretty simple. Almost everyone can learn the basics needed to breathe with the dive equipment and to move around underwater in a very short amount of time. It's especially quick for those who are avid swimmers and love the water!
A professional course with a qualification is needed, however, as you cannot just put the equipment on and go! But you also require knowledge about diving. The training teaches you how to handle scuba equipment, how to be safe underwater, how to be a good dive buddy, and how to prevent and solve problems during your dives.
Check out the courses with DivePoint Mexico, we can certify you during your vacation in the Riviera Maya.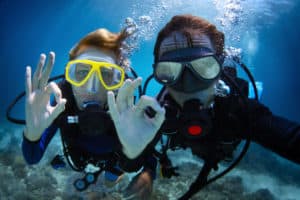 Is Scuba Diving Dangerous?
There's no doubt that scuba diving is dangerous if a person is not trained well. Effective training makes for better divers, who in turn, are more streamlined, air efficient, and safer.
It is important to respect the water and ensure you are trained well, in order to enjoy this amazing sport safely.
Why do People love Scuba Diving so Much?
As with all hobbies, scuba diving has avid fans. People who love scuba diving generally love it for many reasons, but they include being able to see a beautiful array of marine life, the sensation of being able to swim freely in the water, and the relaxing feel of being on a dive.
Is Scuba Diving a Sport?
This is a much-debated question and can be left up to your intent of what you want from a dive.
There's no doubt that you need to be fit to dive, and it burns calories, but the exertion is more gentle and far more enjoyable than any gym I've ever been to!
Although, one of the older jokes in our dive world is that it is putting on your wetsuit that is the challenge that makes scuba diving a sport!
How Old Do You Have To Be To Scuba Dive?
To start your scuba diving lessons, you need to be 10 years old. This will make you a PADI Junior Open Water Diver and your qualification will transfer over to Open Water Diver at the age of 15.
If you are 8 years old and are interested in scuba diving, you can begin a 'Bubblemaker' program with some dive organizations. With the 'Bubblemaker' course you learn scuba skills in a safe shallow pool environment.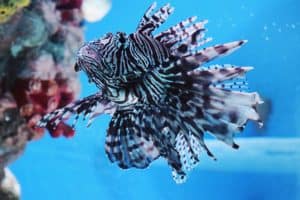 What are the best Scuba Diving Organizations?
There are different organizations that can certify you to dive, each with similarly corresponding levels of advancement. Most organizations are recognized worldwide, and most dive operators will accept your credentials, no matter which company you did your training with.
Some of the best-known dive organizations are:
At DivePoint, we usually accredit our divers following the PADI scheme of learning. But others are available upon request.
Get Started on Your Scuba Journey with DivePoint
If you want to take the plunge into the world of scuba diving, we can help you gain your Open Water Certification!
Our friendly and caring instructors will support you every step of the way during your scuba certification.
We only work with very small groups, to give you the best and most personal service!
Contact us for more information.
Thanks for reading and we hope you enjoyed this blog about What is Scuba Diving?  
If you enjoyed reading, make sure to read our other blog topics, leave us a comment, or follow us on our Facebook & Instagram pages!