Before you take the plunge (quite literally) and decide to do your full Open Water Certification, many dives opt to try a Discover Scuba Diving Course.
Why is this? Well, a complete open water course does involve three days (minimum) of training, including both dives in confined and open water. Plus, it isn't the cheapest of hobbies either, with the certification costing around $400 and up, depending on your learning type and location expenses.
PADI Discover Scuba Diving is a day-long experience that allows you the opportunity to try out the feel of the equipment and see what scuba diving is all about before you decide to go for the full course!
What Happens on A Discover Scuba Dive Day?
During a Discover Scuba Diving day, an instructor will oversee and be your welcoming guide to the underwater world. They will introduce you to the scuba equipment, which you will use for your confined water and ocean dives.
After that, you have some time in the pool with your guide to go through some of the first and most basic skills needed to have a safe and comfortable first dive experience.
Once you are in the pool for the first time you will be able to breathe through the regulator and experience the bizarre feeling of being able to breathe underwater. At first, for some people, this can feel very strange, but you'll soon get used to how easy and relaxing it is to breathe beneath the surface.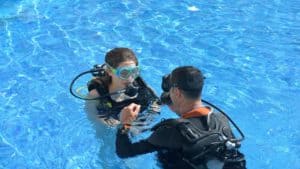 What skills will I learn during my Discover Scuba Diving course?
You learn some basic skills during a DSD training session.
How to breathe underwater
How to retrieve your regulator
How to clear your mask
Equalization techniques
Equipment purpose and use
Essential hand signals
Your very patient and helpful instructor will support you to try these skills at your own pace. They will ensure that you are happy and comfortable with how it feels and how to move around underwater, before heading for your dives in the stunning open ocean.
Do I get to experience diving in the ocean on my scuba discovery day?
Absolutely! At DivePoint, we love taking new divers for their first plunge beneath the ocean waves in Playa del Carmen.
On a normal DSD day, you do your pool training in the morning. Then, in the afternoon, you get 2 dives in the ocean, we call this a 2-tank dive as for each dive you need a tank of air, and there will be a short break on the surface between each immersion.
When you go underwater, you'll be able to witness the beauty of the coral reefs and the majesty of the aquatic marine life. And no need to be worried, your instructor will be close at hand every step of the way. You'll feel like you are inside an aquarium and will understand why so many people around the world have found and fallen in love with this extra special hobby.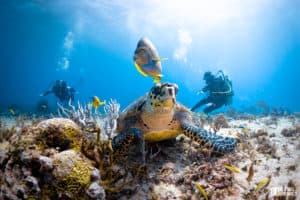 How long will my discover scuba diving for beginners course last?
Discover Scuba Diving takes a full day, beginning around 9am, and finishing at around 4pm. You'll be taken to the confined water site, usually our pool, then have a bite to eat before your ocean dives.
Luckily for us here at DivePoint in the Riviera Maya, we can also offer a DSD in the open cenotes too. Let us know if you would like to try a cenote for your experience!
Why should I try a DSD instead of my open water course?
If you're undecided if scuba diving is for you, a Discover Scuba Dive is a great way to ease yourself into it and see how it feels to be underwater like a fish. All without the price tag or the investment in time.
But most people who try it get hooked, and soon move on to wanting to obtain their Open Water Certification to become a certified scuba diver, a license that allows them to dive worldwide.
Is there an age limit for the one-day scuba discovery course?
The minimum age for the PADI DSD is 10 years old. Children between the ages of 10 and 14 may participate in the course with the permission of a parent or guardian.
Do I need to be a strong swimmer to take part in a discovery dive?
Being a strong swimmer is not a requirement for participating in a scuba diving discovery dive. However, basic swimming skills are necessary to ensure that you feel comfortable and confident in the water before you begin diving.
Try a Discover Scuba Diving Course with DivePoint Mexico
Are you excited to try a scuba discovery dive? Come and experience one with us at DivePoint Mexico.
If you are on your travels with certified divers, we can also make arrangements for them to join you on your ocean dives during your Discover Scuba Diving course!
Contact us today to book.
We hope you liked this blog post on the beginner's course discover scuba diving.
If you enjoyed reading, make sure to read our other blog topics, leave us a comment, or follow us on our Facebook & Instagram pages!