Dreamgate Cenote is located in the Riviera Maya, between Playa del Carmen and Tulum. It is part of the Sac Actun system, the largest underground river system in the world.
Cenote Dreamgate is known for its stunningly decorative stalagmites and stalactites and is a favorite of divers for its enchanting beauty. This cenote has even been featured in documentaries such as "Planet Earth".
This blog will tell you all you need to know about this stunning cenote and the top reasons why you need to dive in it on your next trip to Mexico!
Natural Beauty
The cenote is a large, open cavern with crystal-clear water. The walls of the cavern are covered in stunning stalagmites and stalactites, which create a truly magical atmosphere. Cenote Dreamgate is a popular destination for divers, with many claiming it to be their favorite for scuba!
Don't forget your camera – even from above, the cenote is super pretty.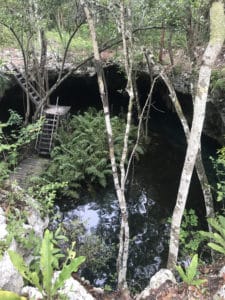 Location and Access
Cenote Dreamgate is located about 5 kilometers after the entrance to the Dos Ojos Park, about 40 minutes from Playa del Carmen. There is no welcome sign at the entrance, and the road to the cenote is a long, bumpy ride through the jungle. However, the journey is worth it once you arrive at Cenote Dreamgate.
The site itself is home just to the cenote, and you'll see the excited faces and trucks of the other divers when you arrive!
The cenote is open, meaning that over time the roof of the cavern system below caved in, cresting the open cenote that you now see. Steps and access platforms have been built for divers to reach the water, and there is a pulley system for lowering down tanks and heavy equipment.
There are only basic facilities here (you are in the middle of the jungle, after all!) but they do have toilets and a small changing room.
Water Conditions
The water temperature in Cenote Dreamgate is typically between 25-27°C (77-80°F). You'll need a wetsuit!
Due to the freshwater, visibility in cenotes is exceptional, and you can usually see for as long as your flashlight allows, Dreamgate is no exception to this.
It is a shallow dive, with the deepest points being around 9 meters (30 feet).
Dive Routes
Diving in Cenote Dreamgate is a challenging experience, but it is also an incredibly rewarding one. The caverns are filled with intricate formations that are truly breathtaking to see up close.
However, it is important to note that Dreamgate is an advanced cenote dive, and it is only recommended for experienced divers who have already tried cenote diving before.
There are two main dive routes in Cenote Dreamgate: the upstream route and the downstream route.
The upstream route is a slightly more challenging dive, and it takes about 40 minutes to complete. This is because some of the turns are a little closer and narrower.
The downstream route is a less challenging dive, and it takes about 30 minutes to complete. Both dive routes offer stunning views of the stalagmites and stalactites that line the walls of the cavern.
Usually, during a Dreamgate diving day, you'll experience diving along both lines.
History of Cenotes
Cenotes were considered sacred by the ancient Mayans, who believed that they were gateways to the underworld. Cenote Dreamgate was used by the Mayans for both ceremonial and practical purposes, such as water collection and purification.
Sustainable Tourism
Dreamgate Cenote is a popular tourist destination, and there are efforts being made to preserve and protect the cenote's unique ecology and cultural heritage.
The cenote is part of a larger conservation area that is managed by the local community, and sustainable tourism practices are encouraged. Visitors are asked to respect the environment and cultural significance of the cenote, and to follow responsible tourism practices, such as not using sunscreen or insect repellent that can harm the cenote's ecosystem.
Visitors are also asked not to leave trash behind and respect the flora and wildlife of the area.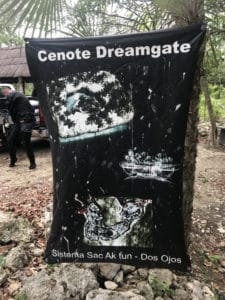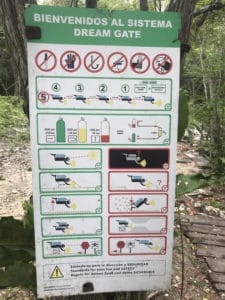 Requirements to Dive
As Cenote Dream Gate is an expert-level diving destination, it is recommended that divers have an Advanced Open Water Diver Certification, excellent buoyancy skills, a minimum of 25 dives, be at least 15 years old, and have previous experience diving in at least two other cenotes.
Cave Diving
Cave diving at Dreamgate is an unforgettable experience, offering unique and beautifully decorated cave dives, complex navigation, and a variety of possibilities for exploration.
However, please note that cave diving at Cenote Dreamgate is only available for fully certified cave divers. If you are a certified cave diver, please inquire about the options available for your certification level.
Plan your Dive to Dreamgate Cenote
If you are interested in scuba diving in Dreamgate Cenote, then DivePoint can set that up for you!
We can do it all for you – plan your dive, gather the equipment, bring the snacks, pick you up, and ensure you have a safe and enjoyable experience.
All you need to do is dive!
Contact us to book our cenote experiences, or an ocean dive today!
We hope you liked this blog post on Dreamgate Cenote.
Have you ever experienced a cenote dive? Which is your favorite?  
If you enjoyed reading, make sure to read our other blog topics, leave us a comment, or follow us on our Facebook & Instagram pages!