Welcome to the fascinating world of underwater adventures in the Palancar reef. One of the most loved dive sites in Cozumel!
If you're a diving enthusiast or just someone who enjoys getting up close and personal with aquatic life, then you're in for a treat. Picture this: you're gliding through the crystal-clear waters, surrounded by vibrant coral reefs, tropical fish darting around you, and the occasional sea turtle cruising by with a laid-back attitude that would put even the most chill beach bum to shame.
But wait, there's more! Cozumel's Palancar dive sites are not just a playground for marine creatures, they're also a treasure trove for underwater photographers with stunning corals and macro critters to be found!
So grab your mask and dive in with us as we explore the amazing features of Palancar dive sites in Cozumel!
Palancar Reef, Cozumel
Palancar lends its name to an extremely large reef section in the famous waters of Cozumel. It's such a vast area that it's actually separated into four dive sites altogether. Those are: Palancar Gardens, Palancar Horseshoe, Palancar Caves, and Palancar Bricks.
The Palancar reefs are known worldwide for their unique biodiversity, corals, and sponge structures.  They range enough in their depth and skill requirements too, so there is the possibility for nearly any level of scuba diver to visit and enjoy them.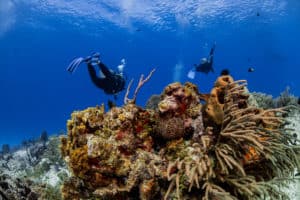 Palancar Gardens
The northernmost part of Palancar Reefs is called Palancar Gardens.
Palancar Gardens offers unique coral and sponge formations including numerous swim-throughs.  reaching from 14 to nearly 30 meters and finally dropping off into the deep blue.
Being a wall dive, it's definitely on the easier side of bottomless dives along Cozumel. You follow the wall along and get to see the amazing views and creatures that live along the edge of the depth change.
The usually mild currents along this reef bring divers to a starting depth of about 15 meters, onto a plateau between coral formations and the deep abyss off Cozumel Island.
Groupers, horse-eye Jacks, and grunts are seen on nearly every dive here. The depth variety here offers excellent photo-dive opportunities – divers find barracudas, nurse sharks, French angelfish, hogfish, and an incredible biodiversity of colorful coral structures too.
Crossing to the shallower section towards the end of the dive, one can encounter midnight parrotfish, blue chromis, and butterfly fish before ascending over a sand stretch from approximately 14 meters to end the dive.
Palancar Gardens truly is a bucket-list dive for any keen diver.
Palancar Horseshoe
Nearly seamlessly connecting Palancar Gardens and Plaancar Caves, you will find Palancar Horseshoe which lies at a depth of 16-30 meters.
A moderate current usually brings divers effortlessly along the reef and its beautiful coral and sponge formations.
As is typical for the Palancar reefs, the formations here reach impressive heights and the structures are awesome to swim around, as they brim with colors and life.
Starting the dive at approximately 16 meters over a sand patch, the horseshoe-like looking coral-formation catches one's eye immediately. This formation can even be seen from the surface on good days!
Descending through the coral structures to an average depth of 27 meters, divers can admire the nearly vertical wall that leads into the deep blue off here. With a little luck, you can observe spotted eagle rays and nurse sharks too.
Back into the reef, moving northwards, there are some swim-throughs to explore. These are usually used for protection from the current by lobsters and schools of fish. Be on the lookout for parrotfish, doctorfish, blue tangs, and spotfin butterfly fish. Barracudas also enjoy the currents here and there are turtles passing occasionally.
Ascending over the sand stretch inside the reef barrier, divers can enjoy a last view of the formations reaching up to 13 meters at some points, before ending the dive.
Palancar Caves
Between Palancar Horseshoe and Palancar Bricks to the south, we find Palancar Caves, at approximately 17-30 meters in depth.
This reef has very dense coral formations throughout and it certainly doesn't make it lack marine-life and interesting points during the dive. The formations in some points here have overgrown each other, forming swim-throughs and caverns allowing light to pass through and divers to carefully inspect the formation from 'inside'.
Diving through these coral caves requires excellent buoyancy and propulsion techniques, so it's better for more experienced divers.
During the dive, you can see nurse sharks, great barracudas, and sometimes a spotted eagle ray. And of course, there are always big schools of different reef fish.
Towards the end of the dive, some sandy slopes lead directly down to the impressive wall drop-off into the blue abyss off Cozumel Island. Turtles are a common sight here, gorgonians and sea fans grow off the coral–structures and wave with the currents.
Palancar Bricks
Last, but definitely not least, Palancar Bricks forms the final and most southern section of the Palancar Reefs. This dive site is between 20-30 meters deep.
Descending onto a sand patch at approximately 20 meters below the waves, divers will start their adventure here floating towards and over the reef structures which form a small wall just before the slope drops off into the famous abyss running parallel to the shore of Cozumel.
The tall pinnacles of coral formations found here are less dense, and feature sandy patches to cross over to deeper sections of the reef and towards the wall.
At about 27 meters experienced divers can encounter some swim throughs and towards the shallower area you might find some big groupers, turtles, and great barracudas accompanying you during the dive.
Due to the different depth features, usually good visibility, moderate current, and biodiversity throughout the dive site, this is a very rewarding dive for nearly any level.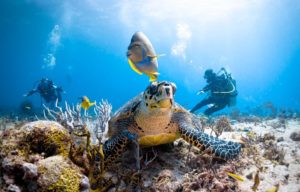 Dive Palancar Reef With DivePoint Mexico
Palancar Reef is a renowned diving destination and if it's not already on your diving bucket list, it should be now!
DivePoint can help you arrange your next dive adventure to Cozumel, with departures available daily!
For the ultimate scuba diving experience, consider combining your Cozumel dive with explorations in Playa del Carmen and the Cenotes.
Contact us at DivePoint today to set up your next dive trip!
We hope you liked this blog post on Palancar Reef, Cozumel.
Have you ever experienced a Cozumel dive?
If you enjoyed reading, make sure to read our other blog topics, leave us a comment, or follow us on our Facebook & Instagram pages!